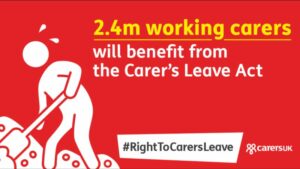 Unpaid carers who are combining employment and looking after someone are going to have the legal right to carers leave for the very first time.
Last night the Carers Leave Bill received Royal Assent meaning it will become law for employers in England, Scotland and Wales to provide five days of carer's leave each year.
While some employers already recognise the need to give carers leave, the bill introduced by Wendy Chamberlain MP has now become the Carers Leave Act and will see all carers in employment able to benefit from leave.
The Bill was also supported through the House of Lords by Lord Fox.
Miriam Martin, Caring Together chief executive said,
"This is massively important news for every unpaid carer who is also trying to manage their caring responsibilities alongside their job.
"There can be huge pressures on people trying to fulfil both professional and caring responsibilities. It can affect their health and wellbeing, on their ability to carry out their caring role and also then have financial impacts as they can be forced into choosing between work and caring.
"As an employer we offer paid carers leave to our staff. We are really pleased that when this law comes into effect all carers will be able to have a minimum of five days unpaid leave. And we hope other employers will also consider making this leave paid."
Caring Together was one of many organisations to have supported the Carers Leave Bill. And you can read more about it on the Carers UK website.
It is thought there are 2.4million unpaid carers who are also working who will benefit when the law comes into effect. This is likely to be at some point after April 2024.
If you are an employer who would like to know more about how we can help you recognise and support the carers who work for your organisation, please do get in touch. You can email us on [email protected]