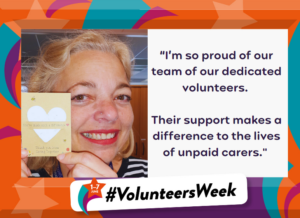 This Volunteers Week (1 – 7 June), we would like to say a big thank you to all our volunteers who make a huge difference to the lives of unpaid carers across Cambridgeshire, Peterborough and Norfolk.
Our volunteer team is made up of 55 dedicated people who give their time and talents to tirelessly to support carers in several ways, from helping at local hubs, to providing a listening ear through our counselling service.
Jane, volunteer co-ordinator at Caring Together said, "I'm so proud of our team of our dedicated volunteers. I know their support makes a difference to the lives of carers who may be feeling isolated or struggling alone.
Many of our volunteers are unpaid carers themselves, or have been in the post, others simple recognise the importance of carers being supported."
As well as making a contribution to carers, volunteers get a lot from their roles themselves and feel the benefits of what they do.
Rose, a trainee counsellor has just come to the end of her volunteer placement with Caring Together.
She said, "I have found it so rewarding knowing that my counselling skills have helped the carers I have seen. Carers are so dedicated, loving and caring that they forget about what they need and taking time out for themselves.
"I am also very grateful the time I've had with the counselling team, who are professional, supportive and so friendly. It's been an utter privilege."
Our team of volunteers help us assist and support carers across all activities in our organisation, including:
Customer service / administration
Counsellor with our counselling services
Supporting our young carers groups
Supporting our day clubs
Supporting our carers hubs
Supporting our parent carer hubs
Helping with our events, fundraising and administration
If you would like to find out more about ways in which you could get involved and join our volunteer team please do contact Jane, our volunteer coordinator by emailing [email protected] or call 0345 241 0954.
You can also find out more by heading to caringtogether.org/help-us-help-others/volunteering