*Jan's story – Adult carer experience of dealing with hospital discharge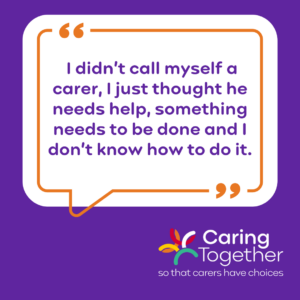 Jan is a carer for a frail husband who is living with dementia. He recently moved into a care home after he was discharged from hospital.
Jan has been caring for her husband for around three to four years. She says she is unsure when she first recognised herself as her husband's carer, because his mental state and frailty 'crept up' on him. He did not acknowledge that he had a problem and was drinking heavily and putting himself into tricky situations where Jan had to step in to help him out because he was unable to cope.
Her husband's behaviour was becoming increasingly unusual and at times aggressive, Jan says, "I didn't call myself a carer, I just thought he needs help, something needs to be done and I don't know how to do it."
Her experience of dealing with hospital discharge
 Jan's husband had an emergency admission into hospital during the COVID-19 pandemic. She was unable to visit him because of the restrictions, however she did call the ward on a regular basis to see how he was.
She said, "When I called the hospital, I felt I was being fobbed off. Ward staff were saying 'oh yes, he is getting on all right'. Occasionally I would get a precise answer, I didn't feel that they knew he had dementia and I felt that I probably had more knowledge then they had."
When it came time for her husband to be discharged from the hospital, Jan found the situation extremely stressful for several reasons. When Jan phoned the hospital to talk about her husband's discharge, she felt at times she didn't know who she was talking to, who would comprehend what she was saying and who would get something done.
She says, "The hospital wanted to discharge him home and I didn't seem to be able to have a proper conversation about it.
"I found myself in a situation where I was talking to Tom, Dick and Harry and Mary, Sarah and Jane and I couldn't remember who I had spoken to last and who had said what."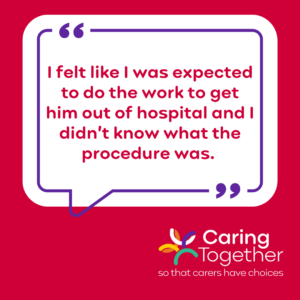 "I felt like I was expected to do the work to get him out of hospital and I didn't know what the procedure was. You have to get a person from A to B and I did not want to drive him because I wasn't strong enough to handle him, he's much bigger than me."
Having had previous contact with social services, Jan contacted them again to discuss the way forward. This led to a decision for respite care in a care home, leading to a permanent stay.
Jan then contacted the section holding details of vacancies in care homes. She was cross-questioned about the decision. They seemed to want to put her in her place and that he ought to be in his own home. She indicated angrily that would mean her caring throughout the day and night as she refuted their suggestions.
Jan told them having rationalised her feelings, "I have a bag packed ready to run out of the house if it is too much. I did not tell them I had a note in my handbag with telephone numbers for the police, a social services person and a neighbour who I could phone once I was ten minutes from home.'
At that point a person from social services said there was a safeguarding issue and called in a colleague who Jan believed was brought in as a witness.
Her husband was discharged to a care home which was subsequently declared by a CQC inspection as 'requiring improvement'. Jan said an 'absolutely excellent' social worker made a safeguarding issue on her husband and helped her find a different care home. He is now in a safe environment and well looked after. Jan visits him there and regularly chats to him on the phone.
Jan says, "It is very strange visiting him because conversation does not flow any longer. I try to save up information to tell him when I visit him, but he doesn't seem that interested anymore."
What Jan believes health professionals should know about carers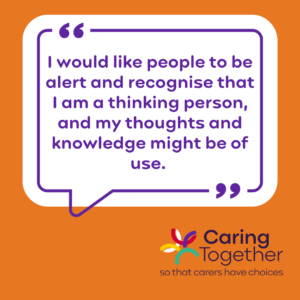 Jan believes health professionals never recognised her as her husband's carer with a capital 'C'. She is the person who knows about her husband and is married to him.
She says, "I think health professionals should see a chart written by a carer about what they have done in a week, hour by hour, night by night and how they are interrupted from what they are doing to do something more essential only to find there was something more essential that needed to be done."
"I would like people to be alert and recognise that I am a thinking person, and my thoughts and knowledge might be of use. "
Jan would like to add that she was supported by an Admiral Nurse who was 'wonderful.'
* To protect the privacy of the carer who kindly shared her experience of hospital discharge we have changed her name to Jan.