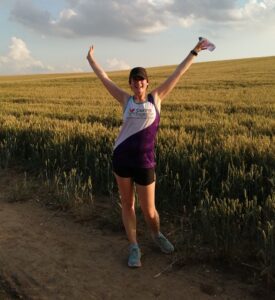 At Caring Together we can't do what we do to support carers without the support of people like you.
Whether it is a donation, volunteering, organising a coffee morning or something more energetic having you give your support means we can do more to help people looking after family members or friends.
That is why we are delighted that Calista Strange is taking on next month's Virgin Money London Marathon to raise funds to help carers. Fundraising like this is a really important way of us being able to provide carers of all ages with the help and support that is most relevant to them.
Calista said, "I am really honoured and excited to be running the October 2021 London Marathon for Caring Together.
"London will be my ninth marathon, but every one feels like the first one – and this one will be extra special as I will be wearing the Caring Together vest and running to raise funds for Caring Together."
Calista who has two daughters and works at a local university explains how her running has developed, "I got into jogging in late 2017 as I really needed to get fitter and I could fit the runs around my family.
"At the beginning I could literally only jog for 10 mins before needing a break! Over the next few months 10 minutes turned into 30 minutes and being able to run 5k, and then 10k, and then half marathons before taking the plunge and entering my first marathon.
"My approach to running is to smile and enjoy the journey!"
You can sponsor Calista and support carers by donating at https://uk.virginmoneygiving.com/CalistaStrange
She said, "Thank you in advance to everyone who donates. Together we can help to raise funds for this fantastic charity! It will mean so much to Caring Together and the adults and children they support."
Caring Together fundraising manager Nicky Newton said, "We are really grateful to Calista for being willing to run 26.2 miles to support carers. It is always fantastic when people fundraise for carers living in their local community.
"And it is encouraging that such a range of people understand the importance of supporting people who look after a family member or friend. One moment of change in their life can mean anyone becoming a carer and at Caring Together we are committed to giving carers the support and help they need.
"Even if running a marathon is not your thing then please do donate to show your support of Calista and carers, and if you want to find out more about how you can raise money support carers please do get in touch."
Nicky can be contacted on [email protected]