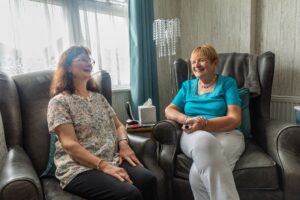 We at Caring Together have teamed up with Sparko TV, to bring its innovative solution to carers in and around Peterborough and Cambridgeshire.
Sparko helps people who are looking after a family member or friend to get involved with their local community, make new friends, enjoy a range of bespoke activities and signposts to services, including partners Care Network Cambridgeshire, Age UK Cambridgeshire and Peterborough, and Alzheimer's Society Cambridgeshire.
Sparko uses an innovative tech-based platform to connect people with the community through their television, all with a simple and easy-to-use remote control. The Sparko kit plugs into the members' existing TV, creating an interactive channel which incorporates live exercise classes and social events, lifelong learning opportunities, access to video calls and a messaging service, and much more.
This is particularly valuable to carers, who often find it harder to get out and about due to their caring responsibilities. Without needing to arrange cover, carers will be able to take part in a wide range of activities, gain support from other carers, and access information and services, from the comfort of their home.
Andy McGowan, head of carer services at Caring Together said, "We know many carers do not find it easy to take part in social activities, exercise classes or even access important services, as they are busy looking after someone.
"Caring for a relative or loved one can be extremely challenging, and can make people feel very isolated. We want people to realise that they are not alone, there is a community of supportive people and Sparko is a way that they can connect with others without leaving home.
'We are also excited to see the types of activities that people will take part in. It will give people the opportunity to build on existing skills, learn new ones, take part in educational and learning opportunities, and just to try something new! It will be great to see some of our carers re-engaging with hobbies and activities that can otherwise be hard to keep up with; they will be able to reconnect with their identity as an individual'.
"Adding Sparko to our existing in-person and digital activities and support for carers is a really valuable step for us in making support and opportunities for carers available in ways that work for them."

Members can also connect with organisations via Sparko, they can request a wide range of local services and support, including information and advice, counselling services, a 'listening ear' service, and much more.
The COVID pandemic has unfortunately highlighted and accelerated the need for people to be able to access services online, but many older people feel nervous and unsure when faced with using complicated technology, pin numbers, usernames, passwords and even touch based technology. Sparko TV provides an ideal solution; all of these services are accessed via the television which most people are already comfortable using.
Sparko TV recognise how important it is to enable people to access technology that many in society take for granted, helping them to remain active and independent, reducing isolation
Sparko's members experience an increase in wellbeing and overall confidence, digital inclusion, participation in exercise and social groups, and greater ease in accessing services.
Sparko's in-house tech support team are able to assist with set up as well as ongoing technical support, and the Sparko community engagement team are always on hand providing support, live classes, social meet ups, and interaction, which in turn increases the amount that people engage and participate. It's all about the 'contact moments'.
To find out more about Sparko and other support available for carers in the Cambridgeshire and Peterborough area please contact [email protected]