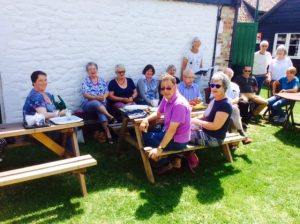 Family carers supported by Carers Trust Cambridgeshire, Burwell Carers Support Group and Burwell Drop-in Group took a trip down Memory Lane when they visited Burwell Museum on 18 July.
The visit gave carers a chance to take a break from their caring role and meet other carers. The group of 19, including the person who is cared for, shared a picnic lunch and had a tour of the museum, which depicts life through the ages with its many realistic displays about life in a bygone era.
Ingrid Baldwin, Carer Support Officer with Carers Trust Cambridgeshire, said:
"It was a fantastic day out for carers and their loved ones to mark the end of national Carers Week. Family carers can feel very isolated and exhausted and they tell us that even just a short break like this can be extremely beneficial for them."

"We were given a tour of the museum by education officer Alison Giles, who explained the exhibits in a fun and interesting way. The tour gave us all chance to remember items from our childhood and reminisce, making us realise how much has changed in our lifetime."
Carers Trust Cambridgeshire provides wide-ranging support for families across Cambridgeshire and Peterborough and Norfolk. Our vision is of a world where the role and contribution of unpaid family carers and young carers is recognised and they have access to the quality support and services they need to live their own lives. Our aim is to improve lives and prevent, reduce or delay the harmful impact of caring. Many family carers do not identify themselves as such, instead seeing themselves as doing their duty as mothers, fathers, siblings etc., and therefore do not realise there is support available.
We can help by:
Preparing flexible breaks for family carers
Assist in preparing an emergency What If? Plan if they are unable to care
Provide a Carer's Assessment to identify the support they need
Offer advice, information, training and emotional support
We also have a team of dedicated professional Care Workers who take the time to get to know the individuals we support, their families and their specific circumstances.
If you are a family carer and would like information, contact us at [email protected] or phone us on 01480 499 090.