On 4 March 2021, Rochelle Bugg releases her book, 'Handle with Care', which is about her memoirs as a carer.
There are 7 million carers in the UK, and 700,000 of those are classed as young carers. Handle with Care, part-diary, part-guide, is the story of 25-year-old Rochelle as she nurses her mum through a terminal brain tumour having already lost her dad to pancreatic cancer when she was just 14.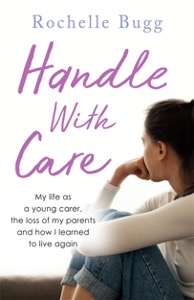 Based on the successful blog she kept while caring for her mum, this accessible guide is divided into key themes such as Diagnosis, Family, Hope, Dying and Healing. It provides a unique, in-depth look at the reality of being a young carer. Rochelle had to navigate changing family dynamics with her two young sisters, the financial and emotional pressure of being a full-time carer, and the challenges of rebuilding her life after the loss of a loved one.
Rochelle says: "The book combines my story with practical advice and a healthy dose of humour. I've thought back to what I wish I'd known, what I wish I'd done and what I wish I hadn't done, so that it might help others who have a loved one with a life-limiting illness. I wrote it for the people who have to grow up before they're ready. For the people that want a reassuring hug from their loved one, only to realise it's them who now has to give that hug. For the people who find themselves in a role they never asked for, but who are nevertheless determined to do a good job."
"Whether it's a quote that clicks, a practical tip that comes in handy, or a story that strikes a chord, my hope is that by reading this book, what people are/have been/are about to go through is a little less painful, or at least a little less lonely. I'm not an academic expert. I can't offer graphs, charts and double-blind studies. But what I can offer is my experience, my truth, my mistakes, my regrets and my lessons."
You can buy the book here: https://www.amazon.co.uk/dp/1789460352/ref=cm_sw_em_r_mt_dp_A7NEBNHW3KN1V15GFDD0
If you use smile.amazon.co.uk and choose Caring Together as your charity, Amazon.co.uk's donation on each eligible purchase will go to helping carers.