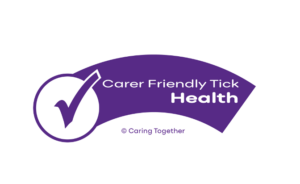 Addenbrooke's Outpatients Department has once again been awarded Caring Together's Carer Friendly Tick Award – Health, in recognition of their work to identify and support carers.
The Addenbrooke's Outpatients Department said, "We welcome a vast amount of people through our doors daily. We feel, through our staff having a wider understanding of the role of the unpaid carer and Caring Together, we will be better equipped to support both our patients and carers holistically. We are very proud to have been awarded the Carers Friendly Tick Award for the second time running and we will continue to strive to ensure our teams from admin to nursing will be in a position to make a positive difference."
On behalf of Caring Together, a panel of carers assessed the submission from the Trust. The panel were impressed by the range of work being carried out by the team, and the impact that this has on both carers and those they care for. The work includes:
a dedicated carers champion
carers information display
carers support displayed on waiting room information screens.
Jill Nooij, carer awareness and voice coordinator at Caring Together said, "We are delighted that the Addenbrooke's Outpatients Department at Cambridge University Hospitals NHS Foundation Trust has continued and developed the support they provide to unpaid carers over the last two years by renewing their Carer Friendly Tick Award – Health.
"Georgina, the deputy matron and her team were the first in the Trust to achieve the award and have inspired others to strive for excellence in supporting carers. Well done for all your hard work!"
Carers being identified by hospitals has benefits to the carer, the person they look after and enables the hospital staff to fulfil their roles more effectively. It is, therefore, vital that carers know what they can expect when they are attending the hospital and what support is available.
The Carer Friendly Tick Award was originally developed for education by young carers from Caring Together's Norfolk Young Carers Forum (NYCF) project. The success of this meant the awards have been rolled out across Norfolk, Peterborough and Cambridgeshire and now includes community, health and employer organisations. The awards recognise the important role organisations have to play in ensuring carers of all ages are recognised and given the support they need.
For more information about the Carer Friendly Tick Awards and how your organisation can support carers see caringtogether.org/carer-friendly-tick or email [email protected].