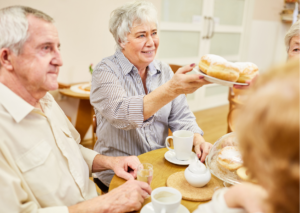 Are you caring for a family member, friend or partner? Come and enjoy a cuppa and some delicious cakes with Caring Together.
We are launching our new campaign – Time for Tea in '23
We are hosting our own Time for Tea '23 just for you, so please join us to enjoy some delicious morning treats, teas and coffees.
Please call 0345 241 0954 or email [email protected], for details on how to join the session.
For more information on carers hubs click here.
Carers hubs are supported by the National Lottery Community Fund and supported by Carers Trust with funding from the Government's Community Match Challenge charity package #CommunitiesCan