Opportunity for adult carers and the people they care for to meet with others in a similar situation and share stories and experiences.
This session will include an opportunity for you to have a mini body MOT with Sue from Healthy You.
Message from Sue and information about the Healthy You service.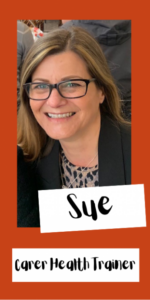 Hi I'm Sue, the Carer Health Trainer for Healthy You.
A little bit about me – I have over 20years of personal experience in caring – as I looked after both my parents, I know first hand how caring can take over all aspects of your life and finding the time for anything else can be difficult. With hindsight, I now know, I should have taken the time to look after myself both physically and mentally, you cannot drink from an empty cup! Its not being selfish but it enables you to stay healthy to do the best for your loved ones.
I have also worked in carer support roles for Cambridgeshire County council, Alzheimer's Society and Caring Together along with 6 years experience as a care manager. Carers have always been at the heart of my career choices.
This service is not about joining a gym or running a marathon, its about supporting you to have a healthier lifestyle by setting targets and goals to make healthier changes so that it becomes natural. I will support you to this for up to a year with 6 sessions which will be scheduled at a convenient time for you. The changes could be about healthier eating, increasing how much you move, losing weight or reducing stress.
Please call 0345 241 0954 or email [email protected], for details on how to join the session.
For more information on carers hubs click here.
Carers hubs are supported by the National Lottery Community Fund and supported by Carers Trust with funding from the Government's Community Match Challenge charity package #CommunitiesCan