Shelford Dementia Support Group celebrated its 5th anniversary today (12 May) with family carers past and present.
The group supports those affected by dementia and is run by staff and volunteers from Carers Trust Cambridgeshire, the leading provider of family carer support services in Cambridgeshire and Peterborough.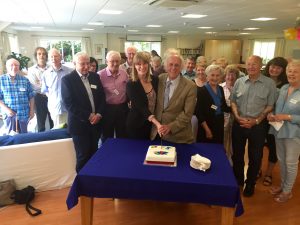 Bubbly BBC Radio Cambridgeshire presenter Dotty McLeod joined the celeb rations, talking to carers about their experiences, and cutting the celebratory cake.
She said: "Whenever I talk to carers on the Breakfast show, I'm amazed at how much responsibility and work they take on – all out of love for the people they look after.  Both the contribution they make, and the pressure they're under, are extraordinary.  It's great to be able to help celebrate a group which means so much to so many people in the community."
Shelford Dementia Support Group meets the second and fourth Thursday of every month at the David Rayner centre, Scotsdales Garden Centre, Great Shelford.  It provides an opportunity for carers to socialise together with their cared-for person, to enjoy activities, with music and dance very popular, as well as hosting professional speakers, including psychologists, psychiatrists and solicitors.
Members include carer Mary Hopkins, whose husband on suffers from dementia.  She enjoys socialising with other families who have similar experiences.
She said: "You know when you walk through the door that however Don's behaviour is going to be in the next two hours, that nobody will disrespect him for it.  It's a lovely setting too, and every volunteer and member of staff in the group gives kindness and compassion that is tangible."
Estelle Mitchell, Caring Communities Manager for Carers Trust Cambridgeshire, said a recent survey showed how valued the group is, with 100% saying they felt better supported and 91.3% saying they felt more informed and connected with other family carers.
She said: "These results are fantastic and show the group is making a positive impact on the lives of those affected by dementia.  It's vital that they feel supported, less isolated and are able to meet others affected by dementia to share their experiences and make new friendships.  We also provide information and advice, carer's breaks, training and events."
Sally Kitchin, Coordinator of the Dementia Carers' Support Service with Cambridgeshire and Peterborough Foundation Trust, described the Shelford group as a "rare gem".
She said: "Congratulations to Carers Trust Cambridgeshire and their skilled and dedicated volunteers who make Shelford Dementia Group possible.  I always feel so proud to refer people to the group as I feel confident that everyone will be welcomed and cared for, and that their time there will be well spent.  More often than not, those who attend the group walk away feeling lighter and less burdened than when they arrived.  Thank you for teaching me so much, Shelford group, about how people work and what people really need.  I hope you enjoyed the celebrations- you are a rare gem."
Carers Trust Cambridgeshire provides social carers groups throughout Cambridgeshire for adult carers, young adult carers aged 18-25 years and also parent carers.  Groups are run regularly at different venues with the purpose of socialising, information sharing, sign posting and activities or one-off events.
What do carers say about the Shelford Dementia Support Group?
"The singing and poetry group is brilliant and makes such a difference to the person with Alzheimer's and it is great for the carers to have a chance of an hour to get information."
"It really is enlightening talking to others who have been through similar problems and learning how they have actually coped or are coping."
"They are what keep us afloat in stormy seas.  Regular meetings keep carers going and prevent burn out. Information sharing means we can find the resources that we need. Meeting fellow carers mean we don't feel so alone."
Further information is available from our website, www.carerstrustcambridgeshire.org or by calling 01480 499090.