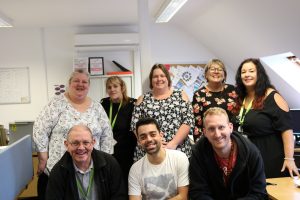 We are extremely delighted to announce that our Homecare Team has been shortlisted for The Care Team Award for the Great British Care Awards, East of England regional final.
Our inspirational team provides homecare to all ages. Our multi-skilled team work effectively keeping families at the heart of everything they do. They demonstrate knowledge and understanding of each other's skills set within the team, highlighting which member of the team would be better to take a certain task forward.
The team provide a 24/7, 365 wrap-around service, providing information and advice, including crisis care delivery with an agreed 24-48 hour turnaround time. The team think on their feet, resolving issues as they arise, with a flexible approach to tweaking shift patterns in order to delivery care.
The team has a focus on dignity and privacy, putting the person they support and their family at the heart of everything they do. The team is passionate, committed and dedicated. They ensure the voice of the person they support is heard and goes above and beyond in order to provide support.
Our Care Team demonstrate on a daily basis that Together Everyone Achieves More!
The Care Team will find out on Thursday 9th November at a nail-biting awards ceremony in Peterborough if they have won. We say Good Luck team to a very well deserved nomination!