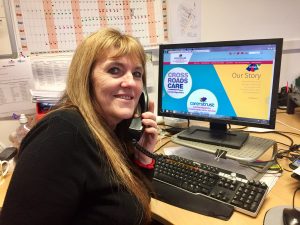 It is a normal working day, and you answer the phone to suddenly find you are speaking to a gentleman who tells you he is currently suffering from a heart attack and an ambulance is on its way. What would you do? Luckily, the person answering the phone that day was Janice Watson who knew exactly what to do.
"I just re-assured him but he was more concerned about the person he was looking after being unable to cope, so I immediately sent a member of staff out to be with them."
Janice's calm and effective manner alongside her vast wealth of experience and knowledge is exactly the reason why we nominated her for The Home Care Co-Ordinator Award for the Great British Care Awards, East of England, and she has been successfully shortlisted.
"Janice is a key member of the office team," said Lorna Harlow, Regional Operations Manager, who nominated Janice.
"She has a real understanding of the importance of communication with families and staff.

"Janice juggles the very fast-paced role of overseeing staff teams who work on various contracts, deciding on who is the most suitable care-worker depending on the needs of the family."
"Janice gets things done," Sadie Andrews, Registered Manager, said. "She never sees a problem, just an opportunity to be creative and solution-focused. Janice always leads from the front."
"It was such a nice surprise and something I had never expected!"
Janice will find out on Thursday 9th November at a nail-biting awards ceremony in Peterborough if she has won. We say Good Luck Janice to a very well deserved nomination!