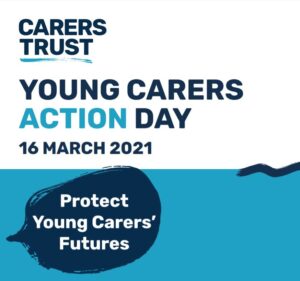 Young Carers Action Day (YCAD) is an annual event all about young carers, and now also young adult carers. It was formerly known as Young Carers Awareness Day. Young Carers Action Day is an opportunity to make real changes for young carers and young adult carers.
This year's theme is 'Protecting young carers' futures' – it will recognise the incredible skills that they have developed through being a carer – such as resilience, time management and empathy. But it's also about making sure that young carers have the same life choices as other children and young people.
You can find out much more about activities planned around Young Carers Action Day and more below:
Activities for young carers and young adult carers
We have been busy working with young carers, young adult carers and organisations such as NEACO – Take your place and Peterborough United Community Trust on plans for Young Carers Action Day 2021.
You can click here to see all the events we have planned. These include events to help young carers and young adult carers build their skills.
Young carers and young adult carers survey results
COVID-19 one year on
As part of the theme for Young Carers Action Day  'Protecting young carers' futures', young carers from Norfolk Young Carers Forum and young adult carers from Norfolk and Cambridgeshire put together a survey for young carers and for young adult carers.
This looked at how the COVID-19 pandemic continues to affect them, as well as what support or action is needed to help ensure young carers and young adult carers have the best possible futures. The findings were announced at our Young Carers Action Day event on Monday 15 March 2021, 4.45pm-6pm. At the event, which is being planned and will be run by the young people, they will be sharing the results of their surveys.
Click here to read more about the survey and the experiences of young carers and young adult carers
You can download an overview of the findings by clicking her [PDF, 98kB]
You can also listen to the virtual session below and download the presentation slides here [PDF, 1.8MB].
Young carer and young adult carer's stories
As well as the survey we have been speaking to young carers and young adult carers about their experiences.
Find out more here:
How you can make a difference
If you want to make a difference to young carers and young adult carers you can support the work of Caring Together at caringtogether.org/donate
We are also inviting people to walk your walk for carers throughout March.
Whether it is a one off walk or a challenge over a few days or a week, you can choose your challenge and raise money to help carers.
Find out more at caringtogether.org/walkyourwalk
As well as our work to support young carers and young adult carers this can also support our wider work, such as providing help for people looking after a family member or friend to get to their COVID-19 vaccination appointment.
Your organisation can also sign up for the Carer Friendly Tick Award. Caring Together can work with you so you are able to identify and support carers of all ages in your organisation – whether you are involved in education, health, and employer or a community group. See caringtogether.org/carer-friendly-tick
Centre 33 to introduce Young Carers Advisory Board
On Young Carers Action Day Centre 33 will be introducing their Young Carers Advisory Board. The young carers representatives that have formed the board will work closely with schools and Centre 33 across Cambridgeshire and Peterborough to help shape young carers futures by giving young carers a voice, and help to shape the support that they receive and how this is provided.
Young Carers Advisory Board representatives will allow young carers voices to be heard, support confidence building and encourage young carers to shape their services and key messages. Centre 33 want the advisory board to have a direct impact on the how their service is built in the future and the support that it offers to young carers, ensuring it is more meaningful and relevant to their needs. The board currently has 23 members from the age of 8–18 and they held their first meeting on Saturday 30th January.
They will be celebrating young carers for the whole week, 15th March – 19th March and highlighting some of the challenges that young carers face. We hope you will join us in raising awareness of young carers.
Centre 33 provide assessments and support to all young carers across Cambridgeshire and Peterborough – you can click here to find out more about Centre 33, and follow them on Facebook, Twitter and Instagram – @Centre33camb.
And as part of their continued commitment to supporting young carers, Cambridgeshire and Peterborough NHS Foundation Trust has worked in partnership with Centre 33 Young Carers Project to commission a series of short films. The films raise awareness of young carers and support staff working across CPFT to actively identify young carers and to enhance the support for young carers and their families.
You can view all three of these on Centre 33's YouTube channel
You can see Ryan's story below.
Norfolk and Norwich University Hospitals
On #YoungCarersActionDay Norfolk and Norwich University Hospitals Patient Engagement and Experience Team have shared James' Young Carer Story. Learning from James' experience, they have identified actions they need to take to better identify and support young carers and young adult carers.
Watch their video to find out more.

Who Cares Campaign
To celebrate Young Carers Action Day, the Who Cares Campaign invited young carers across to UK to send their messages to other young carers. Here are some of the messages they had to share.
They have given a huge thank you to all the fantastic young carers who took part and to their partners: Gaddum, Trafford Carers, CANW, Caring Together, WCD Young Carers, Bury Young Carers, Doncaster Young Carers, Imago & Crossroads Together. The Who Cares Campaign is run by LUNG, The Lowry and Gaddum.