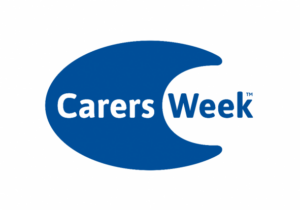 Carers Week 2021 takes place from Monday 7 to Sunday 13 June. This year's theme is 'Making caring visible and valued'.
We would really value you joining with us and others to be involved.
All of us coming together will help more people understand the role played by carers and appreciate the value of what carers do.
Throughout the week we will have people, including from organisations who have our Carer Friendly Tick Award, talking about why they recognise the importance of identifying and supporting people who look after a family member or friend.
We will be holding a number of events through the week, which will involve carers and show our appreciation of them, as well as having activities to help people and organisations understand how they can identify carers and support them. The week will also give us an opportunity to tell people about the resources that we, and others, have available to a range of different types of organisations to help them know more about carers and how to support them.
One way you can support us in this is to follow us on social media and share the posts we make about Carers Week, as well as about other topics.
You can find us on:
You can also look out for social media posts with the hashtag #CarersWeek.
If you are holding an event through Carers Week where you will be showing how carers are valued (or one to make caring more visible) then let us know so we can also talk about this. Contact us at [email protected] to tell us about your event.
If you want to find out how your organisation – whether an employer or in health, education or the community can be carer friendly then please see details of our Carer Friendly Tick Award or email [email protected]
How you can be invovled