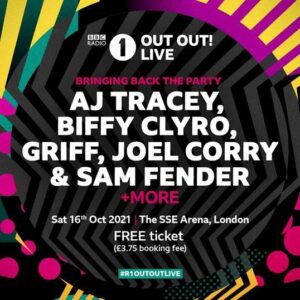 We are delighted to be able to give young carers in Cambridgeshire, Peterborough and Norfolk the chance to book tickets to a star-studded party hosted by BBC Radio 1.
The three-hour show will take place at The SSE Arena, Wembley, London on Saturday 16 October 2021, with highlights broadcast later on Radio 1, 1Xtra, BBC Sounds, BBC One and BBC iPlayer.
The event will be packed with live music to celebrate the return of the night out – with AJ Tracey, Biffy Clyro, Griff, Joel Corry and Sam Fender the first acts to be named on the bill with more to be added.
BBC Children in Need are working with Radio 1 to give projects such as ours supported by BBC Children in Need exclusive first access to tickets before they go on sale to the public!
Travel is not included and so you would need to be able to make your own way to London and back.
Please read the full details below before requesting the access code – in particular the points that you can purchase a maximum of three tickets, young people aged 15 and under must be accompanied inside the event, and young people aged under 16 can only go in the seating area.
Please hurry – you need to book before Thursday 30 September when the event will go public and sell out fast.
If you are interested please contact [email protected] for the exclusive link to book tickets!
*Tickets are free but there will be a booking fee of £3.75 for each ticket.
Full details
Frequently Asked Questions:
How can I get tickets to attend the Radio 1's Out Out! Live event?
Please contact [email protected] for the exclusive link to book tickets. They are not yet on sale to the public, so be quick if you want an exclusive opportunity to book tickets!
How much do tickets cost?
Tickets will be allocated on a first come first served basis and cost as follows:
Tickets will be free however there is a £3.75 booking fee per ticket.  (£3.75 comprises of a £2 booking fee & £1.75 facility fee per ticket).
Please note that AXS is the ONLY official ticketing agent for Radio 1's Out Out! Live . Tickets from other agents may be fraudulent and do not guarantee access to this event.  The BBC and AXS work together to combat touting wherever possible.
All tickets will have a unique barcode and a reference number on them that relates to the details of the person who booked the tickets. PLEASE DON'T RISK BUYING OR OBTAINING TICKETS THROUGH UNOFFICIAL CHANNELS.
How many tickets can I buy?
Due to the young audience for this show we want to try to avoid any young people travelling unaccompanied to this show, therefore tickets will be available to purchase in groups of 2 with a maximum of 3 per purchase, anyone booking over this limit will have their tickets automatically cancelled.
Are there age restrictions to be able to attend?
Anyone aged 15 and under MUST be accompanied by an adult aged 18 – Children under 16 cannot enter the standing area.
You may be asked for ID to verify your age before being admitted, we accept the following forms of ID: a valid passport; valid Photocard Driving Licence; or a valid photographic identity card bearing the National Proof Of Age Standards Scheme (PASS) hologram.
How secure is the ticketing system?
All tickets have a unique barcode and a reference number on them that relates to the details of the person who booked the tickets. The barcode will be scanned at the entrance to the event and tickets and invalid barcodes will be rejected. Tickets are fully traceable and we can cancel them at any time by invalidating the barcode.
Please don't risk buying tickets or obtaining them through unofficial channels – AXS are the only official ticketing agent for this event.
Accessibility
I am a disabled customer – how can I get tickets to attend Radio 1's Out Out! Live ?
If you require accessible tickets, please call 0208 782 5629.
Full ticket information for disabled customers is available on the venue accessibility page.
COVID Policy
To come to the event Audiences will need to demonstrate their COVID-19 status by presenting their NHS Covid Pass on the NHS App by providing one of the below:
Proof of a negative COVID-19 Lateral Flow Test result (taken in the 24 hours prior to attending the Event) from a UK Government-approved test provider (either via a home kit or via a test centre),
Proof of a double COVID-19 vaccination received at least 2 weeks prior to attending the Event, which guests shall be required to show evidence of via: (a) the NHS App for Ticket Holders in England or (b) via the approved certification routes for Ticket Holders from Scotland, Wales and Northern Ireland; OR
Proof of natural immunity based upon a positive PCR test taken within 180 days of the Event.
NHS COVID Pass via the NHS app however if you are unable to download the NHS app we will accept the following…
Letter – please visit here for information. If you are using this form of proof but have not obtained your pass we advise you apply as soon as possible in advance of attending the event so that your application can be processed and letter be received in time.
Lateral flow or PCR negative test results text or e-mail, received within 24 hours of attending the event. Free rapid lateral flow tests are available via the NHS.
While the government have removed many restrictions from Monday 19 July 2021, we all still have a shared responsibility to help prevent the spread of Covid-19, for full information on Venue COVID procedure visit here.
Event Terms and Conditions are available here:
https://www.bbc.co.uk/programmes/articles/3ZR8Nw2zQz6wNxdBVDFtNyt/radio-1s-out-out-live-tickets-terms-conditions