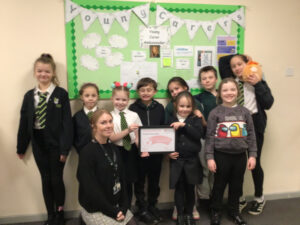 Congratulations to Woodlands Primary Academy in Bradwell on receiving our Carer Friendly Tick Award – Education. The award is in recognition of their work to identify and support young carers within their school.
Trudie Jowett, assistant headteacher – SEND and inclusion at Woodlands Primary Academy, said, "At Woodlands we are developing our support for young carers and raising the profile of what it means to be a young carer, so we can support our children and families.
"We wanted to achieve the Carer Friendly Tick Award to help us develop our children's, staff and parent's understanding of what being a young carer is and to help us provide the best support. Working towards this has been a fantastic opportunity for us to learn more about charities and support we can work alongside."
On behalf of Caring Together, a panel of carers assessed the submission from the school. They were particularly impressed by:
a young carers champion meeting with each young carer to discuss what support they need. This is regularly discussed and shared with staff.
Caring Together continuing to provide young carer awareness training to the school.
plans for the school to hold young carer awareness assemblies during Carers Week.
Claire Rogers, carer awareness and voice coordinator at Caring Together said, "Woodlands Primary School have embedded tailored support for their young carers into already existing school support systems. They have also worked alongside local young carers support provider Great Yarmouth and Gorleston Young Carers (GYGYC) to ensure that young carers have access to the correct service at the correct time.
"I am particularly impressed that Miss Jowett has taken this and moved it forward in a way which best fits the school community. A huge well done to all at Woodlands Primary Academy for achieving this award!"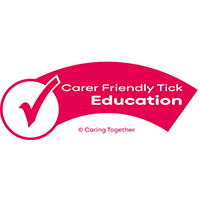 The Carer Friendly Tick Award was originally developed for education by young carers from Caring Together's Norfolk Young Carers Forum (NYCF) project. The success of this meant the awards have been rolled out across Norfolk, Peterborough and Cambridgeshire and now includes community, health and employer organisations. The awards recognise the important role organisations have to play in ensuring carers of all ages are recognised and given the support they need.
For more information about the Carer Friendly Tick Awards and how your organisation can support carers see caringtogether.org/carer-friendly-tick or email [email protected].