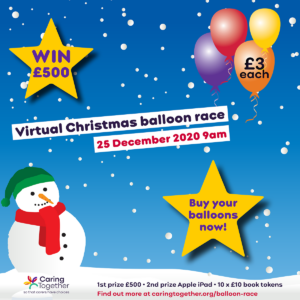 Caring Together are offering you the chance to join the action with a virtual balloon race where you have the chance to win prizes and support carers at the same time.
The balloons launch on Christmas Day with race software using live weather data to determine the progress of each balloon.
So, once you have bought your virtual balloons for £3 each, you choose their names, colours, shapes and patterns. You also choose different features of your virtual balloons that affect how they fly and, therefore, how far they gos, and your chances of winning one of the prizes.
Every balloon sold helps support carers in your local community – carers are the people who look after a family member or friend. It means Caring Together can offer more carers the practical and emotional support they need.
You can buy your balloons at caringtogether.org/ecoracing
Miriam Martin, Caring Together chief executive said, "This is an opportunity to get competitive and win some great prizes. As well as the overall ecoracing prizes we are glad to be able to offer our own prize exclusive to people buying their virtual balloons to support Caring Together.
"You can get family, friends or colleagues involved either by challenging them to buy their own balloon or giving them one by buying an activation code.
"While the race is virtual the prizes are very real, and there is a real benefit to carers from every balloon sold through Caring Together.
"We know that the coronavirus pandemic and restrictions caused by that have had a huge impact on people looking after a family member or friend. It is all the more important that we are able to give them support they need at this time, particularly with Christmas also on the way."
The balloon race also sees other participants from other organisations taking part in this ecoracing event with overall prizes of:
1st place – £500 cash
2nd place – Apple iPad
10 lucky winners – £10 book vouchers
And exclusively to Caring Together entrants, they are also giving away a £25 gift voucher* for the Caring Together supporter whose balloon travels the furthest.
Of the £3 paid for every balloon from our page at ecoracing £2.35 is donated to help support carers.
There are also special bonus prizes if Caring Together reach the following:
More than 500 balloons sold – £50 for furthest balloon flight
More than 1000 balloons sold – £100 for furthest balloon flight
More than 10,000 balloons sold – £1000 for furthest balloon flight