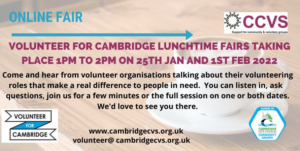 Would you like to find out more about volunteering roles, including with Caring Together.
We are delighted to be part of the Volunteer for Cambridge online lunchtime fair next month.
The fair, organised by Cambridge Council for Voluntary Services (CCVS), takes place on 1 February 1.00pm – 2.00pm.
Maybe you have been thinking about becoming a volunteer to help carers with Caring Together and not sure how to go about it, or maybe you are an ex carer and want to use your knowledge to help other carers.
Come and listen to Jane, our volunteer coordinator talk about our volunteer roles, what we can offer you and most importantly how we make volunteering fun.
The fair will also feature Cambridgeshire and Peterborough Age UK, Red Balloon of the Air, Steel Bones and Red Hen.
All these organisations including Caring Together work to improve our communities health and wellbeing and support the most vulnerable.
Each organisation will give a short presentation and you will be able to ask questions.
Click here to book your place on the online session.
Find out about the variety of exciting volunteer roles we have at Caring Together.