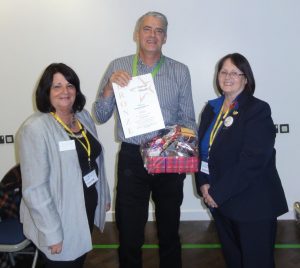 We are thrilled to announce that our volunteer, David Elliott received an award at the Hunts Forum Volunteer Awards 2017.
Lisa Masters from Peterborough nominated him and he truly deserves his Bronze award. Lisa said,
"David, or DIY Dave as the staff and young people warmly know him, had volunteered for other charities before joining the Young Carers group at Thorpe Hall Peterborough in December 2016.

Dave has been an asset to the organisation and has been able to bring to the young people a range of new and practical skills and knowledge for them to develop and utilise.

Within some families, the role of maintaining and undertaking basic household tasks can fall to young carers. DIY Dave has undertaken a series of volunteer sessions, sharing his skills and expertise to equip young people with the confidence and ability to undertake simple tasks safely and practically.

Through David's help, we have been able to develop the Young Carers Garden within the kitchen garden at Thorpe Hall. The young people under David's support and guidance have sown, nurtured, picked and cooked their own range of produce through fun and hands-on activities. He has shown them cost effective homegrown alternatives to save time and money; both elements those with caring roles and responsibilities can lack."
David said he was a little embarrassed to be nominated, he said,
"I didn't feel as though I had made that much of a contribution, especially as I have only been volunteering for Carers Trust for about a year. I was even more embarrassed when Richard Reeves who won gold, said he thought I should have won instead of him. I am proud that Richard and I managed to get some of the top awards as that can only help raise the focus of Carers Trust and hopefully inspire others to volunteer for a worthy charity.

My goal is to pass on my skills, whether it be in DIY, gardening, cooking or to life in general, hopefully empowering them to sow a seed, paint a wall, prepare a meal. I have always said 'there's no point having skill and experience if you don't pass it on', so it just puts a smile on my face when I see they're learning the skills they need to support others."
We would like to thank DIY Dave, for his enthusiasm, creativity, green fingers and on-going support that he brings to the group session and activities for the young carers. Well done on receiving you award, David. We are incredibly proud of all of our volunteers. We really would not be able to do what we do without them.