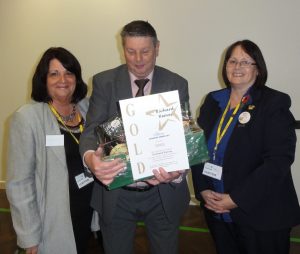 We are thrilled to announce that our volunteer, Richard Reeves received an award at the Hunts Forum Volunteer Awards 2017.
Several members of staff all asked to nominate Richard and he truly deserves his Gold award. Ingrid Baldwin said,
"If you looked in the dictionary, under the heading 'super hero' you would see a photo of Richard Reeves. To us he is a hero and he even brings along and wears his own cape when the occasion demands!  We consider ourselves incredibly lucky to have him as one of our volunteers.

He is totally reliable and helpful and always goes the extra mile for us. He is efficient, hard-working and always has a friendly word for every unpaid family carers he meets. Richard truly deserves this award, but then, we are a bit biased!

Richard has been a very vocal cheerleader of our Carers Hubs, even delaying a much needed holiday so he could attend one of their launches and is a familiar face at our Ramsey hub.

Richard always thinks of others and how he can support them he will often just send a 'just checking you are okay email' to the ambassadors and his link supervisor, which shows compassion and consideration for others. Richard feels that he is not doing anything out of the ordinary, however, he makes a huge difference to someone's life on a daily basis.

As a volunteer he enhances the reputation of our organisation. His work in Peterborough, liaising with GP surgery's is second to none, his dedication and expertise is something we value greatly. Richard is a huge supporter of our events, and is seen regularly championing the rights and ensuring the voices of carers are heard."
Richard was surprised to have been nominated he said,
"When I received the Gold award I was amazed and I still don't know why I won or why I was nominated. I read the words on the back of the certificate which made me feel deeply touched and honoured that people felt so much of what I do. I volunteer because I want to give back something for the help I received while i was in my caring role for my wife. It does not matter how much or little you  do or why you do it but every little helps to a carer who needs support in the role they do."
Richard is incredibly modest and dismisses any compliments, as he 'just wants to help' and that he has done 'nothing special' however, this shows us that Richard is a super hero with a huge heart. We are extremely proud and privileged to have Richard as a volunteer Carers Ambassador.
Well done, Richard, we are incredibly proud of all of our volunteers. We really would not be able to do what we do without them.