We are delighted that Carers Trust Cambridgeshire, Peterborough, Norfolk's Chief Executive, Dr Helen Brown, and Trainer, Sarah Farrow, scooped awards at the East of England Great British Care Awards in Peterborough last week.
The East of England Great British Care Awards 2017 celebrates excellence across the care industry and winners were announced at a gala dinner held at the Holiday Inn, Peterborough on Thursday 9 November 2017.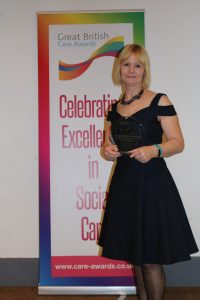 Helen received the award for her Outstanding Contribution to Social Care and Sarah received the Care Trainer award.
Helen has been with the charity for over 12 years and has seen it grow from supporting around 200 family carers to over 11,000. She has been integral in seeing the charity flourish from six separate schemes to one large organisation, which puts family carers at the heart of everything it does. Helen is passionate giving family carers a voice and choice in the support available to them, having co-developed an innovative social prescribing model, which has been widely shared across the county and cited by the Department of Health and NHS England. Helen is highly regarded within the industry on a national level and received a ministerial invitation to join the Standing Commission on Carers in 2015.
Helen said, "It was a huge surprise and honour to be recognised within the care sector. I'm passionate about good quality care and the amazing people who provide it and know from personal experience that every family carer needs to trust that their loved one is in good hands when they aren't there."
Sarah Farrow (seated below right) has developed the training programme for CTCPN alongside the Registered Manager and was praised in recent CQC inspection feedback for her training delivery when staff stated her training and knowledge was excellent. They said Sarah supported them to deliver quality care support by making training interesting and fun, giving valuable hands-on experience and using 'real life' scenarios to demonstrate best practise.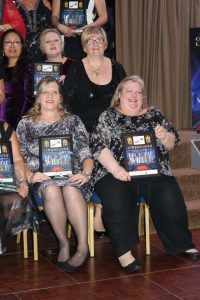 Sarah said, "I am so pleased and amazed to win this award. I work for an organisation that has let me develop and grow into the trainer I am today. To teach and support the Care Workers within the organisation is the best job in the world; to give them the confidence to go and deliver first class care to our service users is such a worthwhile job. This award was given to me but it's the Carers Trust family, management and staff that made it possible."
Both Helen and Sarah both go forward for the national finals of the Great British Care Awards.
Carers Trust Cambridgeshire, Peterborough, Norfolk, based in St Ives, supports family carers of all ages by providing Care Workers to support people with almost any condition or disability, including those who have dementia and are frail, to give their family carer a break. We also support adult carers by providing Carer's Assessments, Family Carers' Prescriptions, the What If Plan? for emergency care planning, information, advice and guidance, groups and peer support. Young carers and young adult carers aged from 5-25 and supported by us through trips and activities to give them a break from caring and with help through education and into employment.
For more information about our work or to join our team, see our website: www.carerstrustcpn.org, email [email protected] or phone 01480 499090.