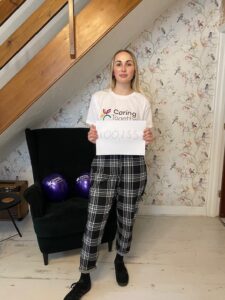 We want to say a big thank you to those who have joined in #WalkYourWalkForCarers this March.
The fundraising appeal is to provide free and tailored support for people looking after a family member or friend, including so they and the person they care for can get to their appointment for the COVID-19 vaccination. We have been inviting you to walk your walk for carers this March to raise money so that they can continue to provide this and other support to carers during the coronavirus pandemic.
Taking part in the challenge, Gemma Barber, along with with her two children and her husband with the family goal of walking a million steps in March, said, "Walk your walk has been a great challenge for us as a family as we've been working hard on our challenge of 1 million steps in March. During lockdown its given us a good aim and reason to get out in the fresh air! The children have had fun exercising (we've even borrowed a dog or two to encourage some extra steps!), totting up steps totals each day and been excited as donations have come in!
"We reached our aim of one million steps last week and are now keeping the momentum going to see just how many we can do by 31 March! We are amazed at the generosity of peoples sponsorship and have smashed our fundraising aim, raising lots of money for Caring Together and the vital work they do.
"We know how important it is that carers have the support they need and are pleased to have been able to raise money to help them.
Another participant, Paul has been doing a 'Land's End to John O'Groats challenge' in aid of #WalkYourWalk. He said, "For my challenge, I have an app that tracks my steps and over time I'm walking. As I walk, it adds the miles to my total and it moves me along a virtual map of the UK, passing through the various virtual towns on my way from Lands End to John O'Groats.
"It's fantastic to able to support your charity and carers in the community."
To find out more about walk your walk for carers please click here