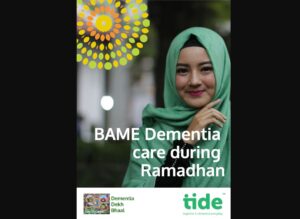 The charity tide have produced a leaflet that is available in three languages for people caring for someone with dementia during Ramadan.
You can download the leaflet in English, Bagla or Urdu at www.tide.uk.net/resources/bame-resources/
This page also has other carers leaflets in English, Bangla and Urdu you may find useful as well as other resources that are part of the Dementia Dekh Bhaal project.
More about tide
tide, 'together in dementia everyday', is a UK wide involvement network of carers, former carers and health and care professionals who are working together to build a better future for carers of people living with dementia. Hosted by Life Story Network CIC, their team is made up of a group of former carers of people with dementia who are passionate about improving the lives of carers and those they care for across the UK.