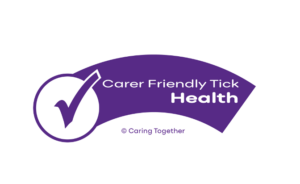 The Queen Elizabeth Hospital King's Lynn NHS Foundation Trust has been awarded  Caring Together's Carer Friendly Tick Award (Health), in recognition of their work to identify and support carers.
On behalf of Caring Together, a charity supporting people caring for family members or friends, a panel of carers assessed the submission from the Trust.
The panel were impressed by the range of work being done across hospital departments, and the impact that this has on both carers and those they care for.
The Trust was awarded the Carer Friendly Tick Award for reasons including:
having different staff leads supporting carers with different caring responsibilities, for example, parent carers, young carers and carers caring for older relatives.
having a Carers as Partners in Care policy, a comprehensive document that acknowledges the important and unique contribution that carers can make to a patient's care.
West Norfolk Carers, (before COVID-19) were able to access the hospital wards to raise awareness of carers to hospital staff and patients.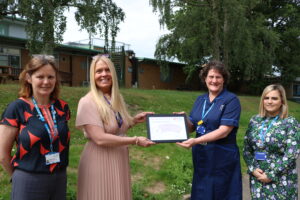 Alice Webster, chief nurse at The Queen Elizabeth Hospital, said: "We are extremely proud to be accredited as a Carer Friendly Trust. This fantastic news is testament to the hard work and commitment of colleagues at QEH to further improving services for unpaid family carers. We look forward to continuing to work collaboratively with carers and their representative organisations to further strengthen our support for carers whether they be patients, employers or volunteers, and share best practice across the NHS."
Andy McGowan, head of engagement at Caring Together, said, "We want to congratulate and thank Queen Elizabeth Hospital King's Lynn NHS Foundation Trust for their work to identify and support carers of all ages.
"With three in five of us likely to be a carer at some stage in our lives we are very pleased to see the Trust working in partnership with organisations such as West Norfolk Carers to identify and support carers within health settings. The work that they are doing makes a real difference to carers.
"Carers being identified by hospitals has benefits to the carer, the person they look after and also in enabling the hospital staff to fulfil their roles more effectively. It is therefore vital that carers know what they can expect when they are attending the hospital."
He added: "We hope that other health organisation, schools, colleges, universities and communities, will follow in this good work. They can develop their own ways to identify and support carers, and we are here to help them do this. As the number and awareness of carers grows this will be an ever more important part of making sure carers are given the recognition and help, they deserve."
Read more about our Carer Friendly Tick Awards and how your organisation can support carers at caringtogether.org/carer-friendly-tick.
Photo:  Emma Harrison, patient and public involvement lead, Belinda Jones, awareness and voice team leader from Caring Together, Alice Webster, chief nurse and Chelsea Kirk, equality, diversity and inclusion lead.