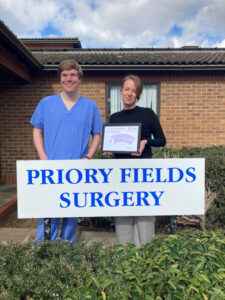 Priory Fields Surgery in Huntingdon has been awarded Caring Together's Carer Friendly Tick Award – Health, in recognition of their work to identify and support carers.
Dana Beamon, care coordinator at Central Huntingdonshire Primary Care Network based at Priory Fields Surgery said, "We would like to help carers understand that just because you are caring for someone you love does not mean you have to do it all yourself.
We want to help put support in place and work towards preventive action instead of dealing with people at crisis point."
A panel of carers assessed the submission from the surgery on behalf of Caring Together. The panel were impressed by the range of work being carried out by the surgery, and the impact that this has on both carers and those they care for.
One panel member said, "The surgery has a genuine desire to identify and involve carers in developing an ethos which they are supported and valued. Dana's flexible and positive approach deserves congratulation. A big well-done!"
Jill Nooij, carer awareness and voice coordinator at Caring Together said, "Dana and her team at Priory Fields Surgery have put in a lot of hard work to ensure that they are identifying and supported carers at the earliest opportunity.
"Having a carer section on the registration form and notifying the carer lead at the point of registration is a shining example of best practice. Congratulations on achieving this award, its well-deserved!
The Carer Friendly Tick Award was originally developed for education by young carers from Caring Together's Norfolk Young Carers Forum (NYCF) project. The success of this meant the awards have been rolled out across Norfolk, Peterborough and Cambridgeshire and now includes community, health and employer organisations. The awards recognise the important role organisations have to play in ensuring carers of all ages are recognised and given the support they need.
For more information about the Carer Friendly Tick Awards and how your organisation can support carers see caringtogether.org/carer-friendly-tick or email [email protected].