Peterborough College is the latest education setting to be awarded our Carer Friendly Tick Award – Education, in recognition of their work to identify and support young adult carers.
The college has seen its accreditation renewed by a panel of carers and has once again met the standards for the Carer Friendly Tick Award.
The panel were particularly impressed by the level of carer related activities provided, such as student information stands and the positive feedback from young adult carers about the support they receive.
Laila Bentley, assistant principal student experience and support at Peterborough College said, "We have always been committed to supporting young carers in their college experience, to ensure they can achieve their study programmes and have the best possible outcomes for the future.
"Our dedicated student engagement and wellbeing services are delighted to continue to receive this accreditation, reflecting the contributions of young carers to the college community.
Alice Longden, community engagement coordinator at Caring Together said, "We want to congratulate the college on their continuous achievements and thank them for the hugely important work that they are doing which brings real benefits to young adult carers and their families."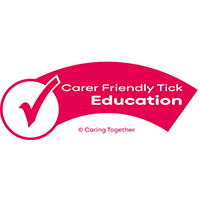 The Carer Friendly Tick Award was originally developed for education by young carers from Caring Together's Norfolk Young Carers Forum (NYCF) project. The success of this meant the awards have been rolled out across Norfolk, Peterborough and Cambridgeshire and now includes community, health and employer organisations. The awards recognise the important role organisations have to play in ensuring carers of all ages are recognised and given the support they need.
For more information about the Carer Friendly Tick Award please visit caringtogether.org/carer-friendly-tick or email [email protected]