Caring Together volunteer Pat Strachan came away with a runners up award at the Peterborough Council for Voluntary Services 2019 awards.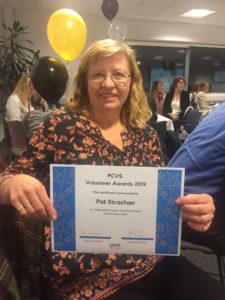 Pat provides emotional support over the telephone for carers across Peterborough and Cambridgeshire with our Listening Ear service.
In being presented with her award in the dedicated service award category it was noted that, "Pat provides support to carers who are isolated, have recently lost the person they care for or just need someone to talk to. The calls Pat takes are often emotionally very difficult, she always remains calm and very professional, putting the carers at ease and giving them a safe place to talk and share their concerns.
"Through the support Pat provides the project has grown and been a great success. Pat volunteers with Caring Together one day a week and supports up to 40 carers a month."
We are delighted that the superb support and service Pat gives to carers has been recognised in this way, and it is also a reflection of the PCVS judges recognising the importance of the work Pat does to the carers she speaks to.
If you are interested in volunteering with Caring Together click here to find out more about the ways you can get involved.