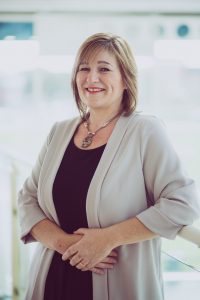 Carers Trust Cambridgeshire, Peterborough, Norfolk (Carers Trust CPN), the leading charity providing support for carers and those they care for, announced today that it had appointed Miriam Martin to be its next Chief Executive (CEO). Miriam takes over from Dr Helen Brown and assumes her new role in January 2018. Helen is retiring at the end of November after 12 very successful years as CEO, during which time the charity's income has increased from under £650k to over £4mn. The appointment was made after an open recruitment process supported by head-hunters Morgan Hunt.
Miriam has worked in the charity sector for over 20 years, mostly at Action for Blind People (Action), a UK wide charity delivering services to blind and partially sighted people. Action had a budget of £23mn, with 900 staff and 400 volunteers, supporting around 90,000 people each year. Miriam became CEO of Action in 2014, and in 2016 led the merger with the London-based Royal National Institute of Blind People (RNIB). She is currently RNIB's Director of Services, reporting directly to the RNIB's Chief Executive.
Stuart Evans, Chair of Trustees at Carers Trust CPN said: "We will miss Helen, who has done so much for the charity over the years. But we are delighted to have hired Miriam as our new CEO. Her deep leadership experience in the charity sector will serve us well as we continue to grow and serve even more carers."
Miriam added: "Carers Trust CPN does tremendously important work in supporting carers and those they care for. It has accomplished many things in the last thirty years, and, like any other charity, faces many challenges in the years to come. I am relishing the opportunity to drive the organisation onwards and upwards and help support many more carers in Cambridgeshire, Peterborough and Norfolk."
Miriam lives in Peterborough and grew up in Norwich. She enjoys spending time with family and friends, cooking, music and has recently rediscovered her love of camping!
Ends