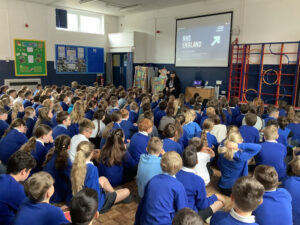 Congratulations to Mulbarton Primary School on receiving our Carer Friendly Tick Award – Education.
The award is in recognition of their work to identify and support young carers within their school.
Natasha Hall, headteacher at Mulbarton Primary School said, "We are delighted to have been awarded the Carer Friendly Tick in Education award. We hope to raise the profile of those who take on this important role within their families, to recognise and celebrate their achievements and to provide opportunities for signposting and support."
Claire Rogers, carer awareness and voice coordinator at Caring Together said, "I was impressed by how quickly the team at Mulbarton Primary School managed to achieve their award. It was also brilliant when delivering assemblies to speak to some of the pupils about their caring experience. Keep up the good work and well done."
A panel of young carers and young adult carers assessed the submission from the school and were pleased to see that the school were supporting young carers within their school and home life.
The panel were particularly impressed by the school having:
a young carers lead that has personal experience of caring
an eye-catching young carers agreement that is displayed in school for the children to see
colourful young carers information on display in a prominent area of the school.
The Carer Friendly Tick Award was originally developed for education by young carers from Caring Together's Norfolk Young Carers Forum (NYCF) project. The success of this meant the awards have been rolled out across Norfolk, Peterborough and Cambridgeshire and now includes community, health and employer organisations. The awards recognise the important role organisations must play in ensuring carers of all ages are recognised and given the support they need.
For more information about the Carer Friendly Tick Awards and how your organisation can support carers see caringtogether.org/carer-friendly-tick or email [email protected]