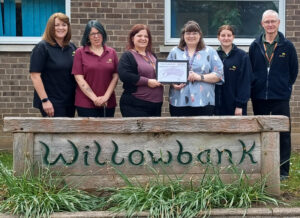 The Norfolk Forensic Community Learning Disabilities Team has been awarded our Carer Friendly Tick Award – Health, in recognition of their work to identify and support unpaid carers.
The team based in Norwich supports individuals with a learning disability who have committed an offence or who display offending behaviours but have not been convicted.
Charlie Freeman, occupational therapy assistant practitioner and carers lead at Norfolk Forensic Community Learning Disabilities Team said the team is very proud to receive the award and added, "The team has a passion to its service users and their carers. Carers are the backbone of our NHS and without them we would not be able to support our service users effectively. The Carer Friendly Tick Award will allow our carers to quickly and easily identify that we are there to offer support and advice and that we not only acknowledge the carer role but value it too."
Claire Rogers, carer awareness and voice coordinator at Caring Together said, "Charlie and her team have worked really hard in a unique environment to provide as much support as possible to carers in their setting. Charlie is enthusiastic about improving things for carers and this has shone through their application. Well done to the whole team."
A panel of unpaid carers assessed the submission from the team. They were impressed by the range of work being carried out by the team, and the positive impact that this on both unpaid carers and those they care for.
They were particularly impressed by the following.
Charlie, the team's carers lead, has experience of being an unpaid carer herself and therefore has an understanding of the caring role.
Carers have led on the development of a carers' agreement that sets out how they will identify and support carers.
Carer packs containing information and support available are given to carers of service users who are referred to the team.
The Carer Friendly Tick Award was originally developed for education by young carers from Caring Together's Norfolk Young Carers Forum (NYCF) project. The success of this meant the awards have been rolled out across Norfolk, Peterborough and Cambridgeshire and now includes community, health and employer organisations. The awards recognise the important role organisations have to play in ensuring carers of all ages are recognised and given the support they need.
For more information about the Carer Friendly Tick Awards and how your organisation can support carers see caringtogether.org/carer-friendly-tick or email [email protected]