At the start of 2020 we won the Health & Social Care Employer of the Year Award at the Cambridge Regional College Apprenticeship Awards.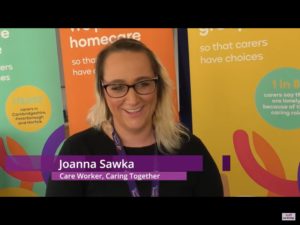 At the time of the awards Joanna Sawka, who is one of our care workers who is part of the apprenticeship scheme said, "I have been employed as a care worker here for four years. When I heard about the apprenticeship scheme I knew it was a good opportunity to progress.
"Learning was hard at first but once you get used to it becomes part of your daily routine. I would definitely recommend apprenticeship learning to others.
"I'm really happy to be studying for a qualification in the career I have chosen which is making a difference for people.
"Clients, especially the older generation like to know we are qualified, so having this helps build trust."
She later spoke to That's TV West Anglia about how she enjoys working for Caring Together and how she is supported to develop and improve her skills, and to offer high quality homecare to clients.
Click here to find out more about becoming a care worker with Caring Together