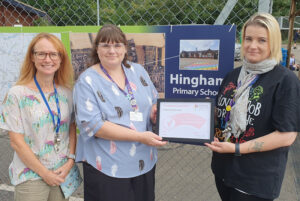 Congratulations to Hingham Primary School on receiving our Carer Friendly Tick Award – Education. The award is in recognition of their work to identify and support young carers within their school.
Vickie Newrick, headteacher at Hingham Primary School, said they were delighted to have achieved the award and added, "Young carers demonstrate the core of our school vision (Nurture – Learn – Achieve) in nurturing each other to achieve their best. The young carers group have already found support from one another and have brought understanding to the whole school. We are very proud of our young carers."
Claire Rogers, carer awareness and voice coordinator at Caring Together said, "They have done an amazing job achieving their Carer Friendly Tick Award and its great to see that they have involved a governor right from the start of their journey. It has been great to see the journey that the school has gone on and the enthusiasm from the staff involved has been key. Well done!"
A panel of young carers and young adult carers assessed the submission from the school. They said, "The school has done amazing work. We love the plans that you have for raising awareness of young carers and we look forward to seeing where this work takes you!"
The panel were particularly impressed by the school having:
staff members as young carer champions and there are young carer ambassadors
young carers involved in the shaping of the young carers agreement
school staff and a school governor involved in young carer awareness training
Young carers manage and update the young carers information board.
The Carer Friendly Tick Award was originally developed for education by young carers from Caring Together's Norfolk Young Carers Forum (NYCF) project. The success of this meant the awards have been rolled out across Norfolk, Peterborough and Cambridgeshire and now includes community, health and employer organisations. The awards recognise the important role organisations must play in ensuring carers of all ages are recognised and given the support they need.
For more information about the Carer Friendly Tick Awards and how your organisation can support carers see caringtogether.org/carer-friendly-tick or email [email protected]