A new campaign aimed at Norfolk's young carers launches today. Led by Norfolk Safeguarding Children Partnership and supported by carers organisations Carers Matter Norfolk and Caring Together, Heroes at Home recognises the vital role young carers play in supporting their loved ones at home and highlights the range of support available to help them.
It is estimated that over 11,000 children and young people from as young as 5 years of age in Norfolk are carers, helping to look after or support a family member or friend who is ill, disabled or misuses drugs or alcohol.  This figure is likely to be higher as many children and young people may not identify themselves as a carer but may still fulfil a regular caring role for a family member.
The effects of the coronavirus pandemic have seen increased pressure on young carers providing essential support to a family member in their household, with previous opportunities for a break from their responsibilities, such as meeting friends at school or through social groups currently not available. Findings from a Caring Together survey found that 79% of young carers are feeling isolated at the moment and nearly 1 in 2 young carers say they feel unable to cope.
Heroes at Home highlights that now more than ever we need to say thank you to these young carers, and signpost them to support that's available via the Carers Matter Norfolk website and advice line.
In addition to support and advice for young carers and families, there is also a range of practical and virtual support available to young carers through partner organisations across the county. Caring Together also provide an opportunity for young carers to have their voices heard and help improve support for young carers through their Norfolk Young Carers Forum project.
Councillor Julie Brociek-Coulton, Norfolk County Council's Member Champion for Carers, said: "On behalf of Norfolk Safeguarding Children Partnership, I would like to say a huge thank you to our young carers for the vital support and care they provide every single day. You truly are our heroes at home.
"This is an extremely challenging role in the best of times and during the current COVID-19 crisis, we recognise that things might be particularly tough for many young carers, especially if family members are shielding. We want all our young carers to know they are not alone – we are here for them and this new campaign flags up the broad range of advice and support available."
Cllr John Fisher Cabinet member for children's services said: "I would personally like to thank these young carers for the wonderful job are doing. The coronavirus pandemic has made life extremely difficult for many of us.   I would urge family members to recognise that if they have a young person or hero in their household who is helping support them and care for them during difficult times to be aware of the help that is available for them. The advice line and online chat are both valuable resources and both accessible for children and young people."
Chris Robson, Chair of Norfolk Safeguarding Children Partnership, said: "We are delighted to see this campaign launch and to have the opportunity to publicly thank our young carers for the vital role they play, providing emotional and practical support to their family. Children and young people are at the heart of everything we do and their welfare and safety is always our top priority.  At this particularly difficult time, we're aware that many young people may be struggling and experiencing additional stress and anxiety.  Now more than ever, it's crucial they know they are not alone. Support, advice and a listening ear is available online or at the end of the phone and this campaign will point them in the right direction."
Maria Plumb, Service Manager, Carers Matter Norfolk, Young Carers & Families, said: "The Heroes at Home campaign recognises the amazing contribution made by young carers helping to look after a family member. The coronavirus pandemic has really impacted young carers, many of whom are hidden to the wider community. We are delighted to be part of the campaign to help say a huge thank you to them and let them know they are not alone and friendly, helpful support is available."
For support and advice or a live chat online visit www.youngcarersmatternorfolk.org or call the Carers Matter Norfolk Advice Line on 0800 083 1148.
Molly's story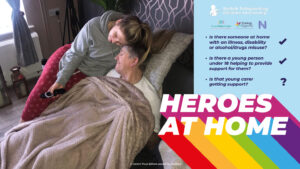 Molly is 17 and cares for several members of her family who are shielding during COVID-19, including some who do not live with her so she has to balance her time between her own house and other family members.
Molly's cares for her dad, uncle and grandad who all have physical health issues and also her brother. Her day starts early and her many caring tasks include helping her mum to dress her dad, making food, assisting with mobility and giving emotional support.  Molly also has to balance her caring responsibilities with her college work, to ensure she keeps up.
Since the COVID-19 crisis began, Molly has become increasingly anxious, worrying about the risk to her family if she should catch the virus. Her caring tasks have increased because her family members are shielding, and she feels very tired.
As a member of Norfolk Young Carers Forum, Molly is supported by Caring Together. She receives regular telephone calls to check how she is getting on and takes part in online groups to keep in touch with other young carers in her area.  As she now has to self-isolate, she is linked to Carers Matter Norfolk to help her access practical support including shopping.