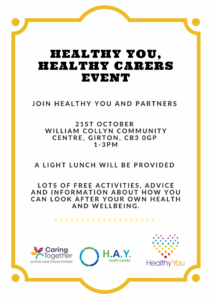 Healthy You are holding an event for carers offering free activities, advice and information about how you – as someone looking after a family member or friend – can look after your own health and wellbeing.
The event is on Thursday 21 October at William Collyn Community Centre, Girton, CB3 0GP and will be there from 1-3pm.
A light lunch will be provided.
You can go along for:
Mini MOT's – blood pressure check, and height and weight taken for a BMI measure.
A nutritionist – available to ask any questions on healthy choices
Falls prevention team – practitioner showing exercises on strength and balance
Curling taster sessions
Exercise referral scheme to advise what classes are in community
HAY South Cambs Charity and Caring Together will have information stands
You can sign up online by clicking here
You can also click here to read more about Healthy You's carers health trainer service for carers living Cambridgeshire. The aim is to help you make manageable steps to being healthier – including being given one-to-one support to know what will work well for you.