Survey by Action for Children shows one in five feel stressed or lonely during the holidays, nearly half miss social events
Young carers feature on national news as results of the research announced
Nearly half (47%) of young carers feel responsible for giving their family a good Christmas, according to a new survey¹ released today (Friday 20 December) by leading charity Action for Children.
While other children and young people spend their time enjoying the Christmas festivities and a break from school, hundreds of thousands of young carers will be at home cooking, cleaning and looking after loved ones.
The UK-wide poll of young carers under 18 found one in five (21%) is looking after a loved one for longer than most people spend at work, as they care for 11 hours or more a day over the Christmas break. This would mean these young carers spend the equivalent of 10 days out of their two-week holiday caring.2
44% of young carers surveyed by the charity said they have missed out on Christmas social activities in the past due to their caring duties and their isolation during the holidays leaves one in five young carers feeling stressed (20%) or lonely (19%).
With the significance of the results of the survey being recognised young carers, including two supported by Caring Together, have been interviewed about their experiences by national news.
Commenting on the research, Andy McGowan, business development and communities manager at Caring Together, said, "Young carers carry huge responsibilities which have a big impact on their day to day lives, every day of the year. At Christmas they feel the effects of their role all the more, have additional responsibilities and notice even bigger differences between their lives and those of their friends.
"The contribution young carers make and the impact their role has on their young lives is significant, but too often unrecognised by society. Many young carers don't even recognise they are a carer to know they can get support and advice.
"We hope this research will help many more people recognise the value of young carers, the affect caring has on their lives and the need for us all to do what we can to help and support them, not only at Christmas, but every day of their lives."
See the Action for Children website for more details on the research.
Julie Bentley, chief executive at Action for Children, said: "While most children spend their Christmas holidays decorating the tree, unwrapping presents or having fun with friends, it's desperately sad that so many young carers feel it falls on their shoulders to give their families a happy Christmas.
"This time of year can be incredibly tough for young carers who are often isolated and missing out and at home cooking or cleaning instead of enjoying the festivities.
"The services currently available just aren't enough to support the number of young carers4. The new government must introduce a National Childhood Strategy to help them have a safe and happy childhood. But until all vulnerable children get the support they need, we will be there for them."
You can support our work with carers, including young carers, by donating to Caring Together. See the donate page on our website to find out more
Case studies
Two of the young carers supported by Caring Together have been sharing their experiences, including with 5 News, ITN Lunchtime News, and i newspaper.
James, 17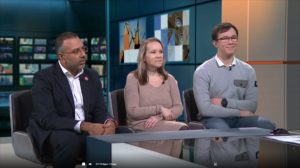 A typical day for James can vary depending on his mum's health. James said, "On a good day I have to do very little for my mum but if she's having a particularly bad week, I'll have to do a lot more around the house like cooking, cleaning and helping Mum with her medication." James's young brother, Liam, has also started helping care for Clair but James often has to step in as he has more experience.
James is currently studying his A-Levels which has added a lot of pressure to his situation. James adds, "I find it really difficult to do essays at home. I'm still sharing a room with Liam and have no personal space to work on assignments. Having to care for Mum and help out around the house also means I can never fully focus on them either."
This has started to impact on James' performance at sixth form and he has fallen behind in one of his lessons. "We're breaking up for Christmas soon but I feel really stressed as I'll be working on essays over Christmas to catch up."
James has also recently had to quit his job as pressure from sixth form and increased caring responsibilities meant he no longer had the time to work. "Before I had to hand my notice in, I was able to use the little income I had to go out and spend time with friends. Now I haven't got the money to do that, so I stay at home instead".
This year James is having to do a lot more for the family over Christmas as Clair is recovering from recently being hospitalised. James said, "This year I'll be cooking Christmas dinner for the first time, which is quite daunting.
"In previous years, we've always had a really big together on Christmas where there has been loads of people to help out with Mum and I've been able to relax. This year there's only the three of us at home so I need to do everything. Part of me doesn't want to do it but I know I've got to do it for Mum and Liam."
James often compares his own situation to that of his friends and classmates. James said, "I think to myself, 'why have I got to do this when you can all relax and enjoy Christmas?'. It's so unfair".
For James, the perfect Christmas would be one where his Mum is in good health and they can spend together as a family. James adds "I'd like one big family get together where Mum's health is good so no one has to help her, and we can just enjoy ourselves. If I'm honest, I try not to think about it because it makes me realise what I've missed out on".
James is currently supported by us as part of our work to provide advice and information, run services in our local communities and campaign for carers' rights.
Lily, 12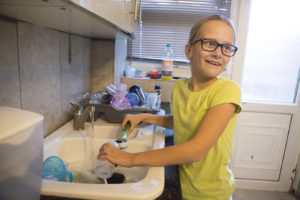 Twelve-year-old Lily from Huntingdon in Cambridgeshire is a young carer for her twin brother Shay and younger sister Daisy (9) and feels its her responsibility to give her family a good Christmas.
Her brother Shay and sister Daisy have severe learning and physical disabilities which mean they need round-the-clock care.
During term-time, Lily helps mum Sianade (36) care for Shay and Daisy before and after school – usually for around seven hours a day. As well as helping with her brother and sister's personal care, Lily also has to do most of the cleaning and cooking, and helps mum look after her baby sister, Rose (2).
Lily's Dad, Ronnie (40), works full time and only gets Christmas Day off during the holidays, and although older brother Brandon (18) is back from college to help out, Lily will often be caring for 11 hours or more during the Christmas holidays, and always helps mum cook the Christmas dinner.
Lily does often get more stressed than during term-time. She said: "I can have fun with my friends when I'm at school – I'm happy to be a young carer but it can be very frustrating, and I always look forward to going back to school after the holidays."
Sadly, Lily often misses out on Christmas parties with friends. Mum Sianade said: "She doesn't get invited to a lot of events because she is a young carer – I think it's just her friends and their parents know that a lot of the time she'll have to cancel because she needs to help me so then don't invite her at all."
Lily attends a young carers group at her school run by Caring Together, where she can socialise with other young carers, and which also takes her away on short breaks several times a year.
Mum Sianade concluded: "It'd be nice for young carers to be supported more during the holidays – to make sure they're ok. I know everyone is doing their best with all the budget cuts, but it's really hard for them a lot of the time, especially at Christmas."
Notes
¹ Action for Children polled 347 young carers across the UK in November and December 2019 via a Survey Monkey online and hard copy print-outs which were uploaded onto the Survey Monkey platform. Due to their isolation, lack of internet access and infrequent engagement with services, there are significant difficulties in reaching young carers.
² If a young carer cares for 11 hours a day, that's equal to 154 hours over a typical two-week Christmas break (11 hours x 14 days). Divide 154 hours by 15 hours (assumption of waking hours, based on NHS sleep guidelines) = 10.26 days (about three quarters of the 14 days/the two-week holidays).
3 2010 – BBC and University of Nottingham.
There are an estimated 800,000 children and young people across the UK caring for a family member with a disability, illness or mental health problem – some as young as five years old.
4 Based on research by the Children's Commissioner, it is estimated that only 20% of young carers receive support from their local authority (p. 2).