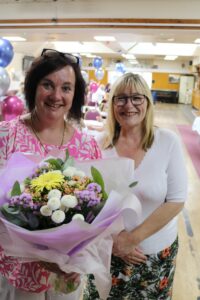 Kerry Giles-Brown from Littleport provides homecare for people through her work as a care professional with Caring Together Charity. And to mark three decades of helping other people in this way she held the Time for Tea in '23 fundraiser at the Littleport Ex-Servicemen's Club.
The event was attended by 80 people including many who are grateful for the support Kerry has provided to them and their families.
Miriam Martin, Caring Together chief executive, said, "Kerry celebrating 30 years of helping people through her work at Caring Together is an excellent achievement.
"She really is thoughtful and compassionate and willing to go the extra mile for unpaid carers and their families. Having attended the event, it was humbling to hear from some of the families she has supported just how life changing her help has been.
"I am so grateful to Kerry, she is a dedicated care professional and a great ambassador for Caring Together. She is passionate about our charity and the support we provide to unpaid carers. People like Kerry are essential to our work to prevent unpaid carers being in crisis, isolated or feeling they are struggling alone.
"It says a lot about Kerry, and how the people she supports value all she does, that she chose to hold this fundraising get-together, and the response that she has had."
Miriam made a presentation to Kerry in recognition of her outstanding service as part of the event. And Kerry was hugely appreciative of everyone who made the event a success, whether by helping to organise it or by coming along. She said, "I would like to thank everyone for all the time and effort that was put into organising the Time for Tea in '23 event.
"By working together, we can make a difference to people's lives and give unpaid carers the support and recognition that they deserve."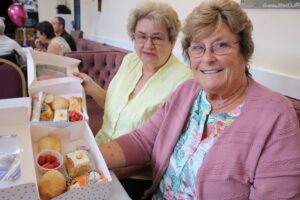 Among those attending were Gail and Cynthia from Pymoor, who came to the afternoon tea event because they wanted to support unpaid carers. Both were unpaid carers for their parents and said they understand how relentless and challenging it can be to look after someone.
Sue Dunlop of Littleport baked a cake with the Caring Together Charity logo which was part of the auction. She said, "I know how dedicated Kerry is to her caring work. I worked as a carer for 20 years and know it's not a job that you can do half-heartedly."
Another to express appreciation of Kerry's work was Amanda Fountain of Streatham. She said, "My mum had to go into a care home recently and Kerry was there to support me during that stressful time. She really helped me a lot."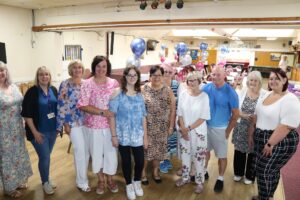 As well as tea, coffee and refreshments the event included a raffle and cake auction. To find out more about Time for Tea in '23 and how you can help Caring Together do more to support people looking after a family member or friend see caringtogether.org/tea