Children and young people in Huntingdonshire who are the primary carers for family members are benefitting from a £30,000 grant from Northamptonshire and Huntingdonshire Freemasons.
The money will enable the Young Carers Project in Huntingdonshire to provide a wide range of activities for young carers, including trips away from home. They are also helped with their caring responsibilities and supported in their educational, emotional, health and wellbeing.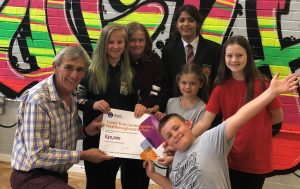 In the UK, there are an estimated 700,000 young carers. In 2016 Carers Trust Cambridgeshire, Peterborough, Norfolk supported almost 1,500 young carers and currently support 320 young carers in Huntingdonshire.
Young carers are at risk of falling behind at school due to their caring responsibilities. One in twenty miss school because of their caring role and 26 per cent of young carers have been bullied because they are a carer. Their caring responsibilities can affect their health including mental health, social life and self-confidence.
Young Carers carry out a wide variety of tasks on a daily basis that are usually the responsibility of adults, for example, personal, emotional and practical support for their loved ones. Josie, 12, and Jamie Higginson, 10, of St Ives, are two young carers supported by Carers Trust Cambridgeshire, Peterborough, Norfolk. The young brother and sister help care for their siblings Amelie and Phoebe, who are triplets with Jamie and severely disabled. They help feed their sisters and assist their parents on family outings and with day-to-day tasks.
The grant from Northamptonshire and Huntingdonshire Freemasons comes through the Masonic Charitable Foundation, which is funded by Freemasons, their families and friends from across England and Wales.
Andy McGowan, Young Carers Service Manager, said:
"Our young carers service in Huntingdonshire relies entirely on charitable donations. We are thrilled to receive such an outstanding grant from the Freemasons. Over the next three years it will enable us to provide social activities for young carers, to enable them to have a break from their caring role and to spend time with other young people in similar situations."