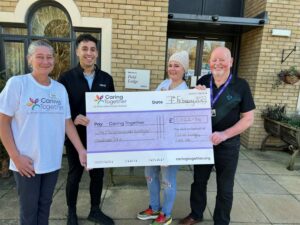 We want to say a big 'thank you' to staff from the Field Lodge Care Home in St Ives who raised £1,022.34 to help carers. They achieved this having set themselves the challenge of taking part in a 160ft bungee jump and organising a delicious cream tea.
Their fundraising will help Caring Together support more people who look after family member and friends across Cambridgeshire, Norfolk and Peterborough, by providing them with:
expert advice
training and chances to meet other carers at our hubs
receiving vital breaks from caring.
If you are up for a challenge and want to raise funds for our charity at the same time, we would love to hear from you. Get in touch with our fundraising team by emailing, [email protected]
You can also find advice and tips on how to fundraise for carers here.
Photo left to right: Donna, Sam and Sam, staff members from Field Lodge Care Home and Sam, volunteer at Caring Together.