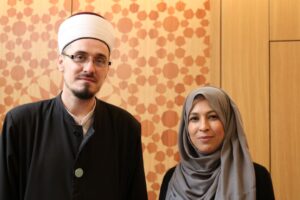 Ayesha, our inclusion officer, will be providing information and advice to people looking after family members and friends at the Cambridge Central Mosque and the Arthur Rank Hospice's 'Living well till the end of life' event on Sunday 3 July, 10.30am – 1.30pm.
The event highlights the importance for us all to be aware of how we prepare for the end of our lives and how to support others in our community, especially those looking after a family member or friend.
There will be information from the Arthur Rank Hospice and other local health and care professionals on what services are available locally to help people prepare for the end of life.
Imam's from Cambridge Central Mosque will also be taking part in the event.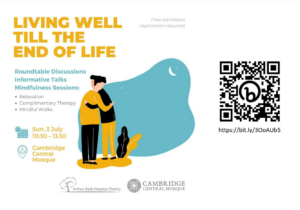 The free informal and relaxing session at the Cambridge Central Mosque will include:
Roundtable discussions
Informative talks
Mindfulness sessions
Tea, coffee and cakes will be provided.
All are welcome to attend the event. Click here to register 
Click here to download the 'Living well till the end of life' flyer [PDF, 278Kb]