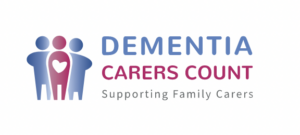 Dementia Carers Count are inviting people to take part in their survey. If you offer, or have offered, help and support to a friend or family member living with dementia, they want to hear from you. They are keen to understand what pressures you face in your caring role, this well help them shape the services they offer and prioritise the issues they ask the government to address.
The online survey takes around 15 minutes to complete and you are welcome to tell them as much or as little as you would like.
At the end of the survey there is a link to enter into a prize draw, where you will have the chance to win technology prizes that can help you and the person you are looking after with dementia.