Well done to St Ives Day Centre on receiving our Carer Friendly Tick Award – Communities. The award is in recognition of their vital work to identify and support family carers in the local community.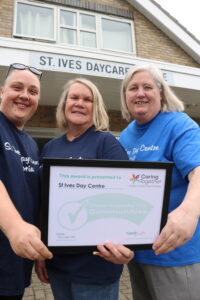 Gill Blair, Manager at St Ives Day Centre said the centre was very proud to receive the award and added, "We applied for the Carer Friendly Tick Award – Communities because we wanted to show our support for the organisation and all the unpaid/unsung carers out there.  By being part of the Carer Friendly Tick Award community, we feel that we can further support our carers by having access to the back up and resources available.  We are proud and grateful as this can only enhance our offering to our members and their families."
The panel of carers who assessed the submission were impressed by the range of work being done to identify and support family carers, this includes having;
a named member of staff who has strong community links, knowledge and experience as a champion for carers;
an accessible carers' agreement that includes powerful and supportive testimonials;
information about support available for carers on the centre's noticeboard and they also share information on their Facebook page.
Jill Nooj, Awareness and Voice Delivery Lead at Caring Together said, "The St Ives Day Centre provides support to many families in the local area. They have demonstrated a clear understanding of carers needs and the challenges that they may face. Congratulations to Gill and the team."
Caring Together works to help raise the awareness of carers in the community with health, social care and education professionals, and employers.
The Carer Friendly Tick Award was originally developed for education by young carers from Caring Together's Norfolk Young Carers Forum (NYCF) project. The success of this meant the awards have been rolled out across Norfolk, Peterborough and Cambridgeshire to now include community, health and employer awards.
For more information about the Carer Friendly Tick Awards and how your organisation can support carers see caringtogether.org/carer-friendly-tick or email [email protected]