Carers have revealed to us the impact of the coronavirus pandemic on carers of all ages.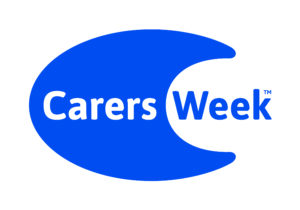 And with Carers Week taking place from 8–14 June we are calling on people to take action to help make a difference – and to avoid more carers reaching crisis point.   
Carers tell us every day that coping with the demands of looking after a family member or friend who depends on them because of an illness, disability, a mental health problem or addiction is hard.  
But we are now incredibly concerned that the on-going coronavirus (COVID-19) pandemic will drive many more to crisis point. The situation is affecting children who are young carers through to those who are older. Many of the people they care for are the most vulnerable to coronavirus.  
We at Caring Together want people to be aware of carers, of the support available to them, and to consider if they can act to help carers.  
Carers have told us, through our survey about the impact of the coronavirus crisis, that the impacts on them includes: 
78% are not able to take a break from caring  

 

82% feel more stressed 

 

76% say their caring role has increased  

 

77% feel more lonely/isolated 

 

Just 28% feel their local community is supporting them more.
What is more, there are very worrying answers from children and young people (young carers aged under 18, and young adult carers aged under 25):  
59% are not able to take a break from caring  

 

67% say their caring role has increased  

 

80% feel more lonely/isolated 

 

78% say their mental health is being negatively affected 

 

Only 12% say their local community is supporting them more.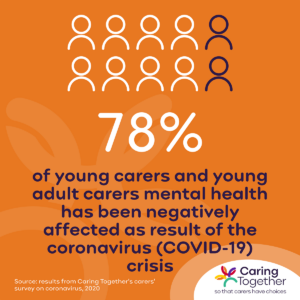 Miriam Martin, our chief executive, said, "This is a desperate situation that carers are facing. We fear more and more carers will reach crisis point, which can have a devastating impact on their already precarious health and wellbeing and may mean that they are not able care for the person they look after.   
"Carers were already very much in need of support before the coronavirus crisis but now they face a new set of challenges. As other people's lives move towards normality the reality of returning to work or school will bring new issues for carers, particularly if they are shielding a vulnerable person. This will mean tackling dilemmas around health, income and education that are unique to them in their caring role.   
"During this unsettling time, we are certain of one thing, that carers and their families need our support, now more than ever.   
"But we also know relatively small things can make a big difference to carers."   
Rylan Ray, who first became a carer at the age of 12, said, "I know first-hand how hard life as a carer can be, but also how much difference getting support can make.  
"The coronavirus pandemic has made life even harder for carers. It is so important people know there is help and support available, otherwise even more carers could reach breaking point. The survey findings show this a very real risk. 
"If you are a carer please do contact Caring Together to find out what support is available to you. And if you are not a carer, please think about the ways in which you can help."  
We have written to MPs across Cambridgeshire and Norfolk to ask for their support and help for carers through raising awareness, identifying and influencing funding, and shaping policies. And are asking for people to support the Heroes at Home campaign 
The message is anyone can make a difference.   
If you are a carer or know someone who is, making them aware of the advice and support available from Caring Together and others can make a huge difference.   
People can make a donation to help Caring Together's Caring for carers emergency appeal, or volunteer to help.    
Schools and businesses can also talk to Caring Together about the Carer Friendly Tick and ways in which they can work to identify and support carers. This is particularly important at this time and as schools and workplaces look to start going back to more normal activities again.  
To find out about support for carers or to get involved visit www.caringtogether.org/carers-week