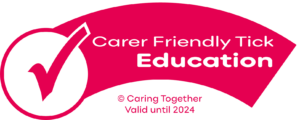 Sewell Park Academy in Norwich has once again been awarded Caring Together's Carer Friendly Tick Award – Education, in recognition of their continued work to identify and support young carers.
Harry Gowlett, head of Year 9 and young carer champion and Georgia Lemmon, raising achievement manager and joint young carer champion, said receiving the Carer Friendly Tick Award again was fantastic news and added, "This award highlights the continued support offered to young carers and the inclusive ethos within the academy."
The Carer Friendly Tick Award was originally developed for education by young carers from Caring Together's Norfolk Young Carers Forum (NYCF) project. Applications from schools and colleges and awards for the Carer Friendly Tick Award are assessed by carers, and given to those that meet the criteria for having effective approaches in place to identify and support young carers.
The panel was particularly impressed by the academy raising awareness of young carers at a whole school assembly, support is offered before a young carer starts school and young carers helped to develop the academy's young carers agreement.
Andy McGowan, head of engagement at Caring Together, said: "Young carers can face a wide range of pressures and demands. These can affect their lives and well-being in a range of ways, including having an impact on their education and ability to have the type of social lives enjoyed by their peers. Therefore projects that take the initiative to identify and support young carers at school are hugely important and make a real difference.
"We want to congratulate Sewell Park Academy on achieving the Carer Friendly Tick Award – Education, and thank them for the work that they are doing which brings real benefits to young carers and their families."
For more information about the Carer Friendly Tick Award please visit caringtogether.org/carer-friendly-tick or email [email protected]