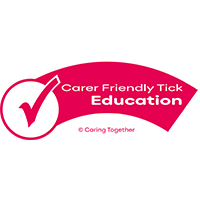 St Clement's High School in Kings Lynn is the latest school to be awarded Caring Together's Carer Friendly Tick Award – Education, in recognition of their work to identify and support carers.
The school has seen its accreditation renewed and has once again met the standards for the Carer Friendly Tick Award.
Nigel Willingham, headteacher at St Clement's High School, was delighted that their work to support young carers was recognised again.
He said: "The students have played a vital role in supporting each other and in educating other students about the pressures and joys of being a young carer. To see them speak maturely and confidently about their work and the support available in school has been fantastic."
Lisa Addison-Paul, student welfare manager at St Clement's High School, thanked our Norfolk Young Carers Forum (West) for their support and praised the 'incredible' young carers in the school.
She added: "Young carers often have many worries which can affect their learning opportunities and enjoyment of school. It is important to us that young carers are identified and supported to make school and learning a positive experience for them.
"We want our young carers to have the same opportunities as their peers who don't have to care for someone."
Andy McGowan, head of carer services at Caring Together, said: "We know that young carers found it particularly hard during the COVID-19 pandemic. They told us that their education and mental health had been negatively impacted during the various lockdowns and restrictions. Schools and colleges taking the initiative to identify and support their pupils who are young carers is hugely important and makes a real difference.
"Therefore, we are very pleased to see St Clement's High School having their work to identify and support young carers once again recognised by the Carer Friendly Tick Award. We want to congratulate them on this and to thank them for the work that they are doing which brings real benefits to young carers and their families."
Caring Together works to help raise the awareness of carers in the community with health, social care and education professionals, and employers.
The Carer Friendly Tick Award was originally developed for education by young carers from Caring Together's Norfolk Young Carers Forum (NYCF) project. The success of this meant the awards have been rolled out across Norfolk, Peterborough and Cambridgeshire to now include community, health and employer awards.
These recognise the valuable work done in identifying and supporting carers carried out by each type of organisations. The Carer Friendly Tick is a set of standards which were designed with carers, and which are assessed entirely by carers.
For more information about the Carer Friendly Tick Award please visit caringtogether.org/carer-friendly-tick or email [email protected]