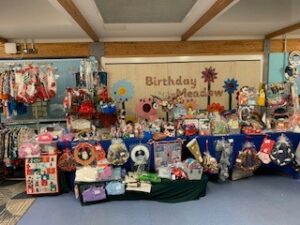 We want to say a big 'thank you' to the Butterfly Legacy Project who have raised £600 for Caring Together by selling beautiful handmade goods on their stall at events across Cambridgeshire.
Their donation will help us support more people who look after family member and friends across Cambridgeshire, Norfolk and Peterborough, by providing them with:
expert advice
training and chances to meet other carers at our hubs
receiving vital breaks from caring.
The St Ives based charity began fundraising for local charities during the COVID-19 lockdown, where they made scrubs for local hospitals out of donated material such as bed sheets and duvets. The project was such a success in terms of people willing to make the goods that it now has people all over the country making goods such as quilts, children's clothes, toys and cushions.
Jackie Westwood, who manages the project, then looks out for local events when she can sell the items and any money raised goes to local charities.
Whether you love sewing, knitting or crafting, you can use your talents to raise funds for our charity and help us support more carers.
Click here for advice and tips on how to fundraise for carers.