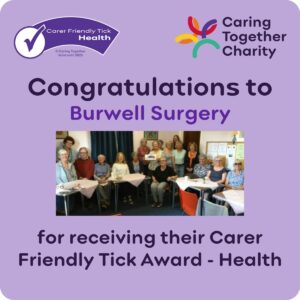 Burwell Surgery in Cambridgeshire has been awarded Caring Together's Carer Friendly Tick Award – Health, in recognition of their work to identify and support carers.
Amy Clark, patient services lead at Burwell Surgery said applying for the Carer Friendly Tick Award was a great way to show their support for unpaid carers in the community.
She added: "We as a surgery feel it is really important to look after our patients who are caring for relatives or friends as it can be a tough task. Having the award has helped us raise awareness of what an unpaid carer is and how we can support them as a group and as individuals.
We are very grateful for the backing we have received from Caring Together and the help they have provided us to make this happen".
A panel of carers assessed the submission from the surgery on behalf of Caring Together, a. The panel were impressed by the range of work being carried out by the surgery, and the impact that this has on both carers and those they care for.
Their work to support unpaid carers includes the surgery having:
a carer champion that has experience of caring for someone
a carer group that meets at the surgery
a display board and screens in the surgery promoting local services.
The surgery also recognises carers through personal encouragement cards and a thanksgiving service.
Jill Nooij, awareness and voice delivery lead at Caring Together said, "
Well done to Burwell Surgery for their commitment to supporting carers through their renewal of the Carer Friendly Tick Award. It's excellent to see that they are working closely with the local carers group.
"The impacts of their good practice have been shown through the case studies provided, congratulations to all involved."
The Carer Friendly Tick Award was originally developed for education by young carers from Caring Together's Norfolk Young Carers Forum (NYCF) project. The success of this meant the awards have been rolled out across Norfolk, Peterborough and Cambridgeshire and now includes community, health and employer organisations. The awards recognise the important role organisations have to play in ensuring carers of all ages are recognised and given the support they need.
For more information about the Carer Friendly Tick Awards and how your organisation can support carers see caringtogether.org/carer-friendly-tick or email [email protected].