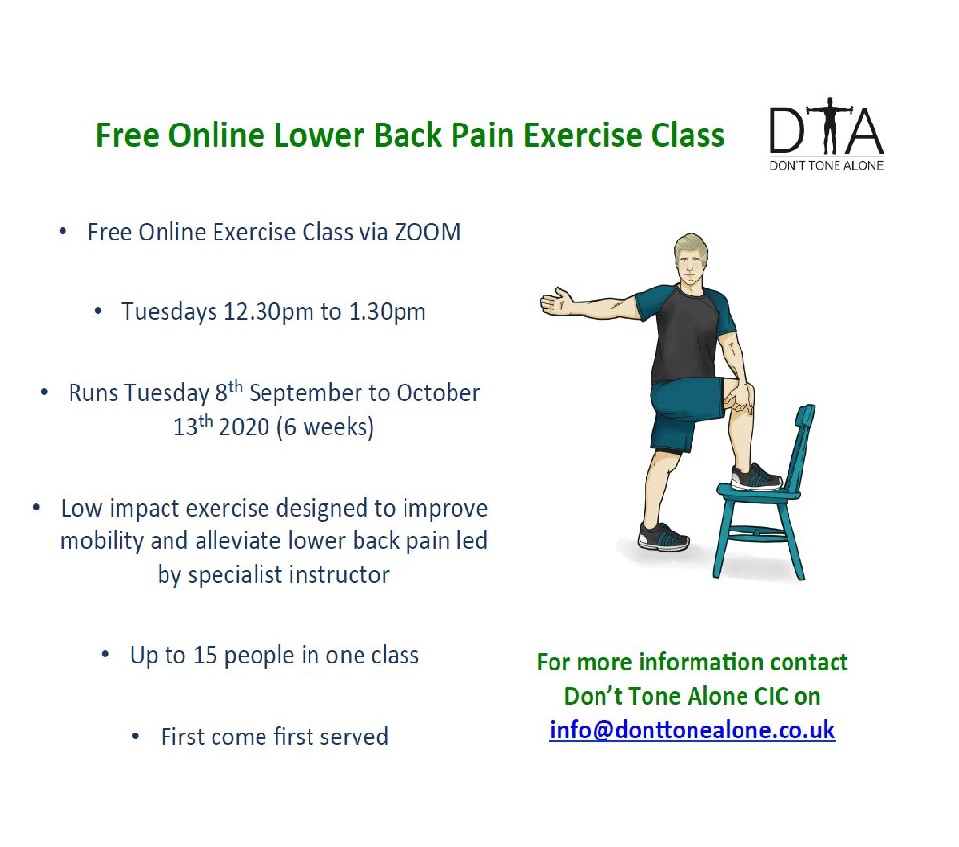 You may have seen or been involved in some of the free online exercise classes Don't Tone Alone CIC offered to unpaid carers from May 2020.
Over this time period Don't Tone Alone CIC was also able to reach out to carers who have benefitted from their services, and check in with their well-being.
Listening to unpaid carers, they understand that lower back pain is a common issue that affects carers' mobility and makes daily life even more challenging. From their 1-to-1 training and exercise projects, they have run with carers organisations, they have also identified the challenges carers face with moving and handling and the benefit of professional and tailored exercise instruction.
Therefore, Don't Tone Alone CIC is running a 6-week course of online exercise classes focussing on improving mobility and lower back pain for unpaid carers, that they can access for free. The classes are instructed by a Level 4 lower back pain specialist instructor and are designed to provide simple exercises that carers can use in their everyday lives.
There is a first come, first served basis for the classes but if demand is exceptionally high, they will look at running additional classes.
Free Online Lower Back Pain Exercise Class
Free Online Exercise Class via ZOOM
Tuesdays 12.30pm to 1.30pm
Runs Tuesday 8th September to October 13th 2020 (6 weeks)
Low impact exercise designed to improve mobility and alleviate lower back pain led by specialist instructor
Up to 15 people in one class
First come first served
For more information contact Don't Tone Alone CIC on [email protected]