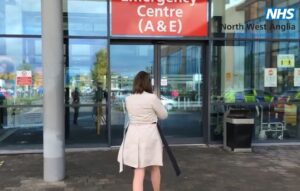 Caring Together welcomes an amendment to the Health and Care Bill which places a new duty on NHS hospital trusts to ensure unpaid carers, including young carers, are involved in the patient's discharge plans.
The amendment, passed in the House of Commons yesterday, means carers have a right to be involved in discharge plans for the family member or friend they care for, as soon as feasibly possible.
The new duty is for NHS hospital trusts in England and covers all carers of adults needing care and support following hospital discharge, including health care support.
Miriam Martin, chief executive of Caring Together, said, "We are pleased that the Government has listened to the strength of feeling about this issue from carers and young carers and ensured they retain their rights. Young carers have shared with us how they often don't feel recognised or acknowledged by hospital staff and young carers are very rarely identified for support by health professionals. Carers UK's evidence has also shown how devastating hospital discharge can be for carers if they are not consulted, involved or given the right information and support to care safely and well.
"We are delighted that carers will now be involved as soon as is feasible when planning for the patient's discharge begins. But the key is now to ensure that these rights are reflected in reality. We look forward to working with other members of the Young Carers Alliance, Carers UK and the Government and NHS to ensure that this makes a difference for carers and their families through clear statutory guidance. It is vital that not only does the guidance secure these rights, but it must also ensure that not only are carers consulted, but that their own needs for information and support are considered. This is particularly important for groups of carers not specifically mentioned in the legislation such as parent carers and sibling young carers."
Earlier this month, a cross-party group of Peers in the House of Lords won an historic amendment which would have made sure that carers' rights were retained and enhanced at the point of discharge, which would otherwise have been lost as key legislation was being repealed.
Caring Together, as a member of the Young Carers Alliance worked with carer organisations across the country, Barnardo's and Carers UK to call on MPs to ensure these rights were not lost in the Bill.