Angela Platt knows very personally the importance of preventing carers reaching crisis point – and this Sunday she will be cycling 100 miles for the cause that is so close to her heart.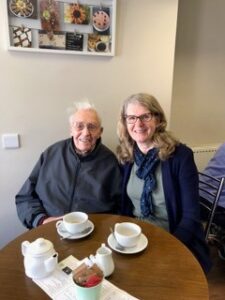 This week is Carers Week and we are asking people to act to prevent carers reaching crisis point. Angela's family faced their own crisis situation during the coronavirus pandemic, and she is raising money for Caring Together who supported her family through this time.
Angela's dad, Percy, was diagnosed with Alzheimer's three years ago and her mum Joan, 85, became his main carer. Her parents became part of our Shelford Family Carers Hub near Cambridge where they could spend time with other people in similar situations. Angela says that this has been a huge benefit to her parents, and therefore the wider family too.
However, as for so many carers, the coronavirus pandemic brought extra demands. Lockdown meant a lack of physical and face-to-face contact with friends and family, the Shelford group moved to meeting by video, and Percy, now 91, had increased care needs. So, Angela rang our advice, information and guidance team to see how we could help and spoke to Claire, one of our team.
Angela said, "For me, ringing that number and speaking to Claire was just brilliant. Claire understood exactly where we were coming from and she got our 'What If?' plan into action providing care for Dad while we put long term plans in to place for Dad.
"I just want to able to say thank you to everyone at Caring Together for the care, support and advice we have received as a family."
But Angela is doing more than saying 'thank you'. On Sunday (14 June) she will be cycling 100 miles to raise money to help us provide more support for carers.
Angela had organised this sponsored event before lockdown. She had planned to do it with other members of her cycling group – Women on Wheels, Cambridge. Due to lockdown restrictions Angela will now be completing the 100-mile challenge on her own with her husband giving support, but the club have still been supporting Angela including with route planning.
The challenge is particularly appropriate as Angela, 61, and her family have a tradition of cycling. She has completed open stages of the Tour de France and been a competitive cyclist. Angela comes from a family of keen cyclists. Her dad was brought up in Islington, London, and when he was 14, his father, who built bike frames, gave Percy his first bike and a map and said, 'off you go'. Percy loved the freedom of getting out of London and would regularly bike to Brighton and to Bicester to see his sister during the war. Percy only stopped cycling when he was in his 80s!
The support that we are providing for carers like Joan is essential as many carers are facing crisis.
Caring Together need your support more than ever before. If you would like to support Angela in her sponsored 100–mile cycle ride please donate at https://uk.virginmoneygiving.com/AngelaPlatt2.
You can find out more about Caring Together and Carers Week at www.caringtogether.org/carers-week.